Best Patio Installation Company in Lake Grove
Patio Installation, Backyard patio contractor in Lake Grove.  We have installed over 200 patios in the area!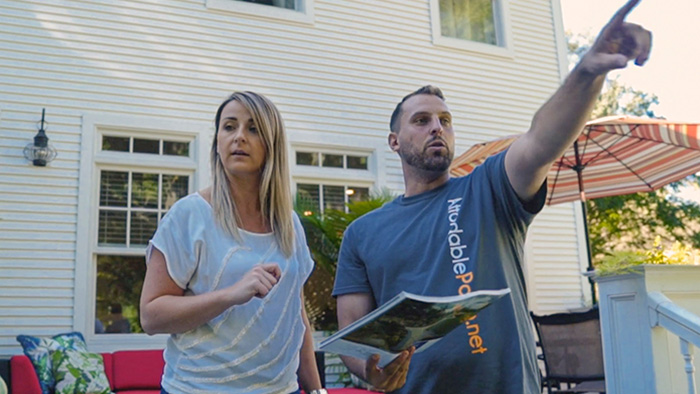 Welcome to AffordablePatio.com in Lake Grove, NY!
We're excited to be your local destination for top-quality paver patio installation and construction services in Lake Grove. With a strong connection to this charming community, our team is dedicated to creating outdoor spaces that seamlessly blend with Lake Grove's unique character and provide you with a beautiful and functional extension of your home.
Lake Grove's friendly neighborhoods and natural beauty inspire us every day. From the bustling local scene to the serene residential areas, we understand the essence of Lake Grove and aim to enhance it through our patio designs. Our experienced team is committed to delivering patios that not only reflect your personal style but also become an integral part of the Lake Grove landscape.
Call Us or Build Price Online.
Select Front Yard, Backyard or Pool Patio Patio Constructor in Bohemia
Here is a project that our team completed of Patio construction in Lake Grove
Getting Your Patio Ready: Pavers at Work
In the town of Lake Grove, our skilled crew created a stunning patio starting with careful groundwork, setting the scene for lasting beauty. The process kicks off with thorough preparation. The ground is skillfully leveled and made smooth, forming a solid base for your outdoor escape. Gentle layers of fine sand are carefully laid, creating a seamless surface for the pavers to settle on. This essential base guarantees not just the patio's good looks, but also its durability, offering a dependable foundation that will endure over the years.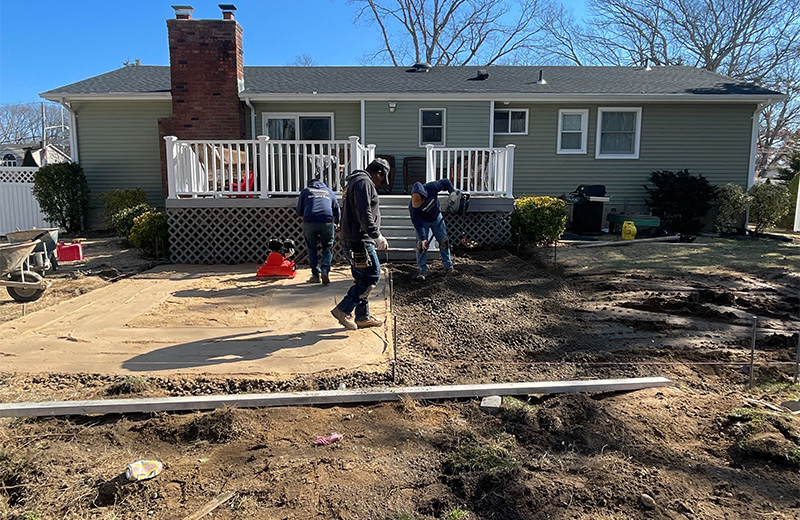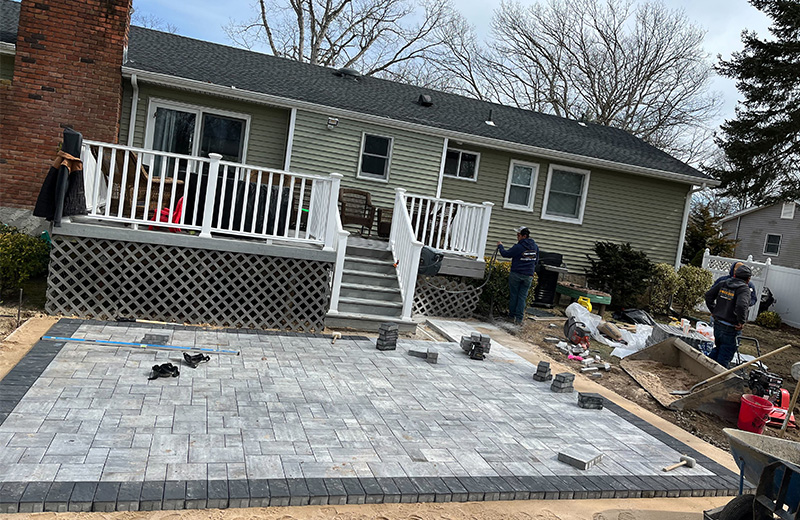 Elegance Defined: Limestone Quarry and Coal Borders
In the backyard of our customers, a stunning patio takes shape, brought to life by the timeless appeal of Limestone Quarry pavers. With measurements of 15×20 and 5×4, this outdoor haven radiates a delightful charm and unique character. The selection of Limestone Quarry infuses a hint of natural elegance, seamlessly blending rustic and polished aesthetics. Enhancing this masterpiece is a Coal double border, measuring 4.5×9, gracefully surrounding the patio. This accentuating boundary not only adds functionality but also captures attention with its visual impact. At Affordable Patio, we hold a deep sense of pride in every aspect of our design, ensuring that your outdoor sanctuary not only dazzles the eyes but also stands as a tribute to true artistry.
Your Perfect Patio Awaits: Transform Your Landscape Today!
Your perfect outdoor retreat is just a step away. For this project with a touch of our experts, we've prepared the ground, carefully chosen materials, and added exquisite borders to bring this patio's vision to life in the residence of our customers in Lake Grove, NY. Affordable Patio is here to make your outdoor dreams come true. Let's embark on this exciting journey together. Whether you're looking for a serene retreat or a gathering space for friends and family, your ideal patio is just a step away. Don't wait – let's create the outdoor haven you've always imagined.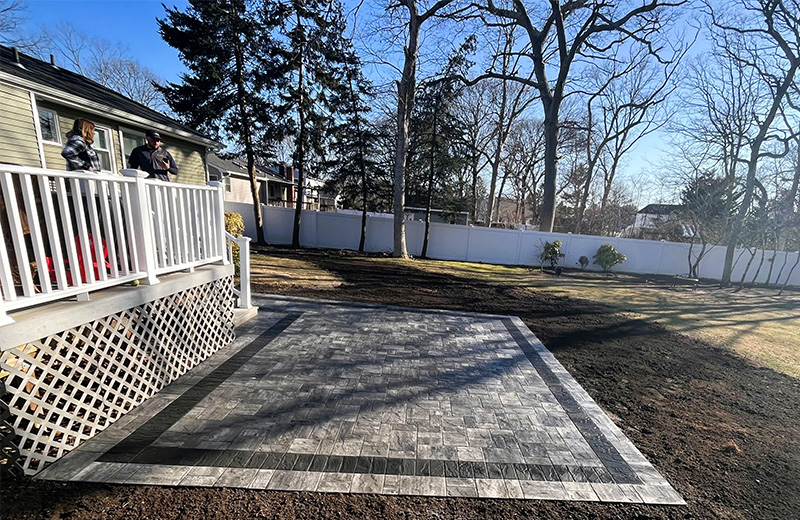 Examples of what similar projects could cost
Our Simple 5 Step process
Get our Free guide about Paver patios, learn all you need to know in order to have your patio build. You can save time by reading our guide. We compile all the best and most up to date information about patios, download our eBook now. Just complete some of your basic information and get your free copy:
Affordable Patio serves the following villages Suffolk County, NY:
What AP Customers Are Saying
I have used Affordable Patio three times now for three different projects and I have always been happy with their service. Dealing with James and Kristina in the office is a pleasure. The entire project is thoroughly planned out and executed appropriately. I highly recommend this company. Thanks again AP for all your help!!!
Elizabeth Donohue
2023-04-07
You guys killed it. Thanks for rocking out the back patio. We're super excited to make new memories. Thanks for the great work guys
We had a wonderful experience from start to finish. James, Kristina, and the entire crew were great to work with!! We will have them back for more projects for sure!!
Working with James Gio Kristina and evo plus his team was an awesome experience. As somone in the industry I was truly impressed and couldn't believe the standard held by precision. Would recommend 10/10!! Super knowledgeable and worth every penny! felt better than family!!
I just had my patio done and from start to finish everything went amazing. From the moment they came for an estimate, to the moment they finished, everything went smoothly. All the workers were professional and worked so fast. There were no hidden costs, no surprises. Kristina in the office keeps you informed step by step from the point they send the estimate, selecting the brick, start of the project and even throughout the project. She even sent photos of different color combinations as I was indecisive at first. Can't wait to enjoy my backyard with family and friends this summer. Will definitely be using them for future projects to come. Home projects can be stressful and feel like a chore between companies not showing up for estimates, hidden costs, poor workmanship, etc. That was not the case with James, Kristina and the rest of the crew. They made it feel like a breeze!
James Donnelly
2023-03-18
Affordable Patio is an amazing company! From the estimate, to the install and the clean up. We went online and more or less got a price on our own. We then scheduled an appointment with James, Kristina answered the phone and all of our questions, she's was polite, knowledgeable and courteous! James came to give us an estimate and was able to figure out a way for us to get a fire pit! We always dreamed of a fire pit! When the install was getting done, the crew was courteous and walked us threw every step and cleaned up like we never had any work done! 5 ⭐️ I love them and recommend them to everyone!
From the initial email that I sent for a quote, to the meeting with James, to the final finished project, I have nothing but excellent things to say about this company. It was an absolute pleasure working with Kristina throughout this whole process. She was very attentive and very quick with responses and questions that I had. Joe and his crew did beautiful work on my patio. I highly recommend this company to anyone looking for a backyard transformation.
Recently had a patio done 18x 35 in size . The crew that came was one of the best that I have seen . They all worked as a team . The lead guy joe was great , explained every detail that was going to happen . They worked together and completed the job in a day and a half . The bob cat did rip up some grass but they brought in top soil and leveled. the lawn to repair the damage . Clean up was just as good . The garbage was placed in bags , removed the dirt from the driveway . Filled the track marks with top soil . Did a great job and would use them again . The entire process was painless .
James and Kristina were very helpful and got the job done very quickly. My patio came out great! I would highly recommend them.
Barbara Schwartz
2023-03-06
James, Kristina and their work crew did an amazing job. They not only did our backyard they also did stone work on the front of our home and of course our front porch. The crew always cleaned up after their work day.. We couldn't be happier with how our home turned out!
Don't Know Where To Start?
Are you ready to enjoy your family's best Memories?
Lake Grove Patio Installation Insights
Site Evaluation and Design
Consultation We begin the process by scheduling a site evaluation and design consultation at your Centereach property. Our experienced team will visit your home to understand your vision, assess the site's layout, and discuss patio design options that complement your outdoor space.
Assessing Grade and Height
 Once we understand your design preferences, we evaluate the grade and height of your property. Proper assessment ensures the patio is built at the right level, allowing for proper water drainage and stability. We consider factors such as sloping and pitch to ensure your patio feels balanced and functional.
Excavation and Soil Removal
 Next, we carefully excavate the area for your new patio, removing approximately 7-8 inches of soil or debris. The excavated soil is carted away to prepare the site for the installation process. This step helps prevent settling and ensures a solid foundation for your patio.
Subbase Installation
 We lay the groundwork for a durable patio by installing a subbase of 4-6 inches of crushed concrete base. This material is compacted with a gas-powered plate compactor to provide stability and prevent shifting. A layer of ¼ inch fine mason sand is then added for the leveling process.
Setting Up to Install Pavers
 With the subbase in place, we set up square lines to ensure the patio is laid out precisely and aligns perfectly with your home or designated structures. This meticulous setup ensures a visually appealing result and proper construction etiquette.
Paver Installation and Border Design
 Now comes the exciting part – paver installation! We use top-quality Cambridge Pavingstones® with ArmorTec® and may include Ledgestone 3-piece, Roundtable 6×9, XL Pavers (with upcharge), and more, depending on your preferences. We also carefully design and install borders to add a pop of color and accentuate the patio's beauty.
Concrete Edging and Polymeric Sand
 To keep the pavers securely in place, we add a concrete edge around the patio's perimeter. This restraint prevents shifting and enhances the patio's longevity. We then use polymeric sand to fill the joints between pavers, locking them together and preventing weed growth.
Final Touches and Cleanup
 After ensuring all pavers and borders are laid correctly, we conduct a thorough cleanup of the area, removing any debris and leaving your Centereach property pristine. Our attention to detail ensures the patio is ready for your enjoyment.
Optional Paver Sealing
 While our patios are built to last, some clients may prefer a sealed finish. If desired, we offer patio sealing services. However, we advise waiting at least 1 year to allow efflorescence to naturally come out of the pavers.
Frequently Asked Questions (FAQs)
How long does the patio installation process take?
The timeline for patio installation varies depending on factors such as the patio's size, complexity, and weather conditions. Typically, it takes around 1 to 2 weeks from start to finish.
What materials do you use for patio installation?
We take pride in using top-quality materials for our Centereach patio installations. We primarily work with Cambridge Pavingstones® with ArmorTec®, and we may also use other excellent materials based on your preferences.
Do you provide a warranty for patio installations?
Yes, we offer a 3-year warranty for our patio installations. This warranty covers material defects and workmanship issues. We want you to feel confident in the quality and durability of your new patio.
Can I customize the design of my patio?
Absolutely! We believe in providing personalized solutions to our clients in Centereach. During the design consultation, we'll discuss your ideas and preferences to create a patio that reflects your unique style and complements your home.
Is the patio installation process disruptive to my daily life?
Our team strives to minimize disruptions during the installation process. While there may be some noise and activity, we work efficiently and keep the area as tidy as possible. We'll communicate with you throughout the project to ensure a smooth experience.
By following these steps and addressing common questions, we ensure a smooth and satisfactory patio installation process for our valued clients in Centereach. At Affordable Patio, we take pride in our workmanship, commitment to customer satisfaction, and delivering beautiful outdoor spaces that families can enjoy for years to come.
Contact Us To schedule your site evaluation and design consultation, give us a call at 631-275-3142 or visit our website at affordablepatio.com. We look forward to helping you create the perfect patio for your Centereach home!
Backyard Patio,Backyard patio contractor,Backyard patio installers,Patio installer
Backyard Patio,Backyard patio contractor,Backyard patio installers,Patio installer
Backyard Patio,Backyard patio contractor,Backyard patio installers,Patio installer
Backyard Patio,Backyard patio contractor,Backyard patio installers,Patio installer
Backyard Patio,Backyard patio contractor,Backyard patio installers,Patio installer
Backyard Patio,Backyard patio contractor,Backyard patio installers,Patio installer
Backyard Patio,Backyard patio contractor,Backyard patio installers,Patio installer