Suffolk County's Premier Step Installer
Steps are meant to make a graceful entrance & exit from your home. Learn all you need to know about paver steps design and steps for a patio, including guidance from fire pit installers near me and fire pit contractors, below.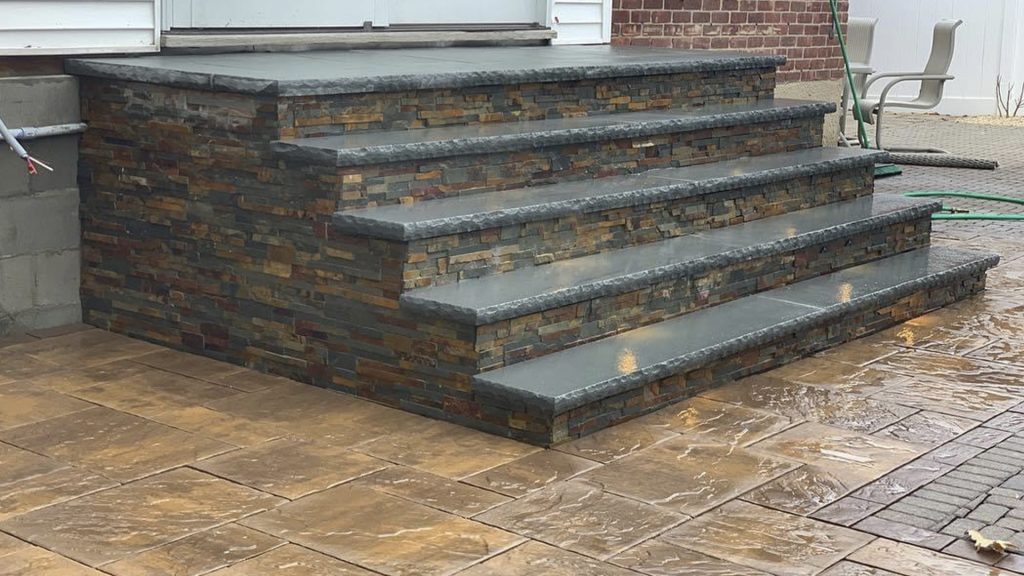 Here at affordablepatio.com we understand how important it is to create a safe and beautiful home. Steps are the way you enter and exit your home and ensuring they are done right is very important to us. We pride ourselves on educating and informing our customers about their future step project by providing videos like, how much stone steps cost, how are steps installed and frequently asked questions. This is the reason we are Suffolk county's premier masonry contractor when it comes to installing new steps for your home. steps for a patio
How Much Does a Paver Steps Cost?
The size of your new stoop will directly affect the size of the footing needed to ensure it lasts a lifetime. All our stoops are built on a concrete footing and each additional step as we build up gets its own footing. Once to the correct height the stoop will be filled with recycled concrete and finished off with concrete for the paver landing to sit on. steps for a patio
The Height of Your Stoop will Affect the Height of Your Patio, Visa-Versa
Step 1 to building steps for a patio is setting the heights. We like to set the height of the landing no more than 5 inches below your door. In our experience, this is the most comfortable height to step out of your home without feeling the risk of falling. Consequently, determining the appropriate height ensures both safety and aesthetics. All masonry steps can be built in either 6 inch or 8-inch risers. At last, your new stoop will not only enhance the entryway of your home but also it will provide a seamless transition between your indoor and outdoor spaces.

Now that we know the heights we can start digging our footing. We build all our stoops with a concrete footing mixed on-site. The size of the footing depends on the height of the stoop, they may vary from 12 inches deep all the way up to 36 inches deep.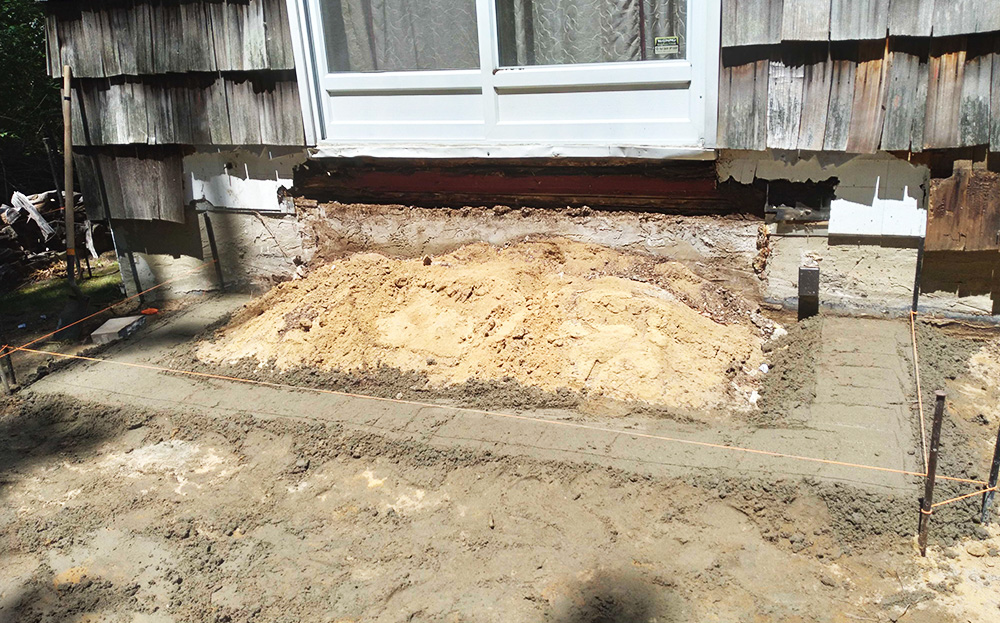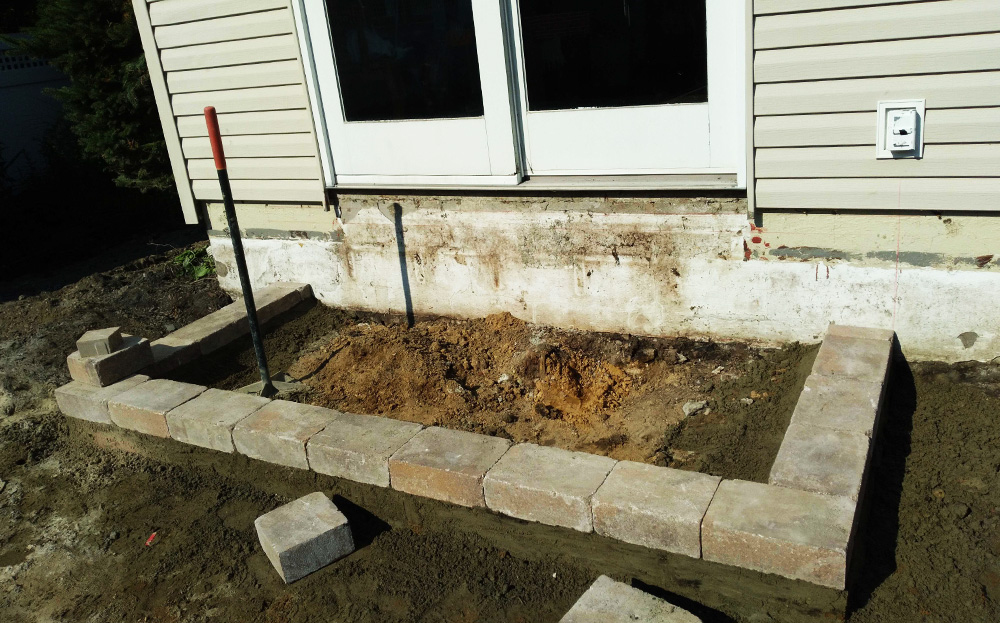 The First Course of Block is Most Important
After the footing is installed, we lay our first course, considering paver steps design and steps patio layout. This course is most important because it determines how everything will look as we build up. After the footprint is laid, we continue to build up, each step gets a footing. Although the process may seem complicated, it ensures the stability and durability of your new steps. As we build up, we fill the stoop with RCA and broken concrete. The top is finished off with a concrete slab.
Installing Caps & a paver landing
We install your coping and then paver landing. The coping is mason glued to the block. The landing will be finished off with poly sand. Most landings should be a minimum of 3ft from your door, especially if you have a door on a hinge rather than a slider. Stoops can be made out of various products like block, cinder block with a stone veneer, or wood. Stoops are also a great place to add lighting. This ensures great accents and a safe area for you to walk up and down at night. Lights in your stoop are a great choice and should be decided upon before starting the project as most of the time, they cannot be installed after the fact.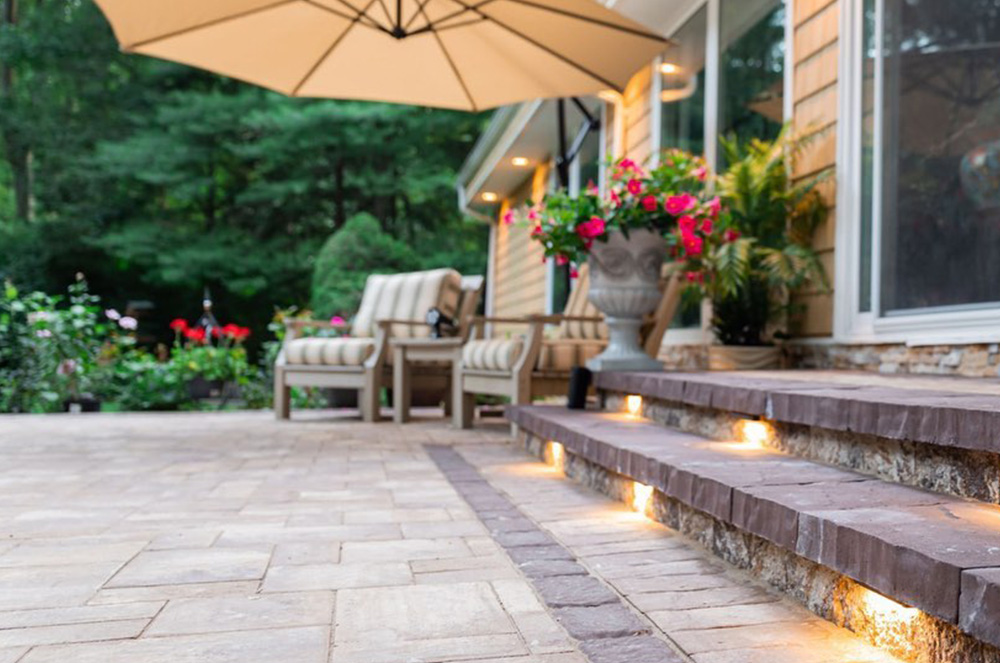 Check out some of our projects
What AP Customers Are Saying
I have used Affordable Patio three times now for three different projects and I have always been happy with their service. Dealing with James and Kristina in the office is a pleasure. The entire project is thoroughly planned out and executed appropriately. I highly recommend this company. Thanks again AP for all your help!!!
Elizabeth Donohue
2023-04-07
You guys killed it. Thanks for rocking out the back patio. We're super excited to make new memories. Thanks for the great work guys
We had a wonderful experience from start to finish. James, Kristina, and the entire crew were great to work with!! We will have them back for more projects for sure!!
Working with James Gio Kristina and evo plus his team was an awesome experience. As somone in the industry I was truly impressed and couldn't believe the standard held by precision. Would recommend 10/10!! Super knowledgeable and worth every penny! felt better than family!!
I just had my patio done and from start to finish everything went amazing. From the moment they came for an estimate, to the moment they finished, everything went smoothly. All the workers were professional and worked so fast. There were no hidden costs, no surprises. Kristina in the office keeps you informed step by step from the point they send the estimate, selecting the brick, start of the project and even throughout the project. She even sent photos of different color combinations as I was indecisive at first. Can't wait to enjoy my backyard with family and friends this summer. Will definitely be using them for future projects to come. Home projects can be stressful and feel like a chore between companies not showing up for estimates, hidden costs, poor workmanship, etc. That was not the case with James, Kristina and the rest of the crew. They made it feel like a breeze!
James Donnelly
2023-03-18
Affordable Patio is an amazing company! From the estimate, to the install and the clean up. We went online and more or less got a price on our own. We then scheduled an appointment with James, Kristina answered the phone and all of our questions, she's was polite, knowledgeable and courteous! James came to give us an estimate and was able to figure out a way for us to get a fire pit! We always dreamed of a fire pit! When the install was getting done, the crew was courteous and walked us threw every step and cleaned up like we never had any work done! 5 ⭐️ I love them and recommend them to everyone!
From the initial email that I sent for a quote, to the meeting with James, to the final finished project, I have nothing but excellent things to say about this company. It was an absolute pleasure working with Kristina throughout this whole process. She was very attentive and very quick with responses and questions that I had. Joe and his crew did beautiful work on my patio. I highly recommend this company to anyone looking for a backyard transformation.
Recently had a patio done 18x 35 in size . The crew that came was one of the best that I have seen . They all worked as a team . The lead guy joe was great , explained every detail that was going to happen . They worked together and completed the job in a day and a half . The bob cat did rip up some grass but they brought in top soil and leveled. the lawn to repair the damage . Clean up was just as good . The garbage was placed in bags , removed the dirt from the driveway . Filled the track marks with top soil . Did a great job and would use them again . The entire process was painless .
James and Kristina were very helpful and got the job done very quickly. My patio came out great! I would highly recommend them.
Barbara Schwartz
2023-03-06
James, Kristina and their work crew did an amazing job. They not only did our backyard they also did stone work on the front of our home and of course our front porch. The crew always cleaned up after their work day.. We couldn't be happier with how our home turned out!
paver steps design, paver steps design
paver steps design, paver steps design