Best Patio Installation Company in Hauppauge
Patio ideas in Hauppauge, patio ideas, Patio Contractors, Patio Construction. We have installed over 200 patios in the area!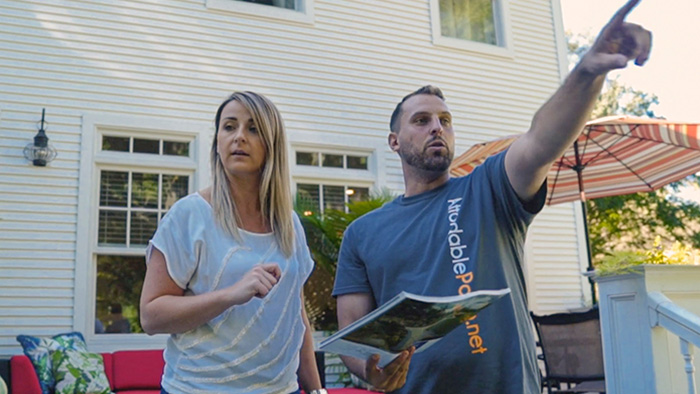 Hauppauge's Finest Paver Installations by masonry experts
Welcome to Affordable Patio. Here is a showcase of our jobs in Hauppauge, New York! Nestled in the heart of Suffolk County, Hauppauge is a charming hamlet located on Long Island's North Shore. With its perfect blend of residential tranquility, bustling commercial centers, and thriving industries, Hauppauge offers a picturesque backdrop for our expertly crafted outdoor living spaces.
Call Us or Build Price Online.
Select Front Yard, Backyard or Pool Patio
Here is a project that our team completed of Patio construction in Happauge
Transforming Outdoor Spaces in Hauppauge.
In the heart of Hauppauge, a remarkable transformation took place as a deck gave way to a splendid patio and walkway project.The process began with the skilled removal of the old deck, making way to bring the homeowner's vision to life. One of the highlights of this project was the installation of a concrete dry pack for the raised patio. This method ensures stability and durability while providing an elegant foundation for the outdoor space. Our skilled workers took their time, making sure each section was perfect. The final result is a strong platform and smooth area where you can relax, entertain, and enjoy unforgettable moments in the open sky.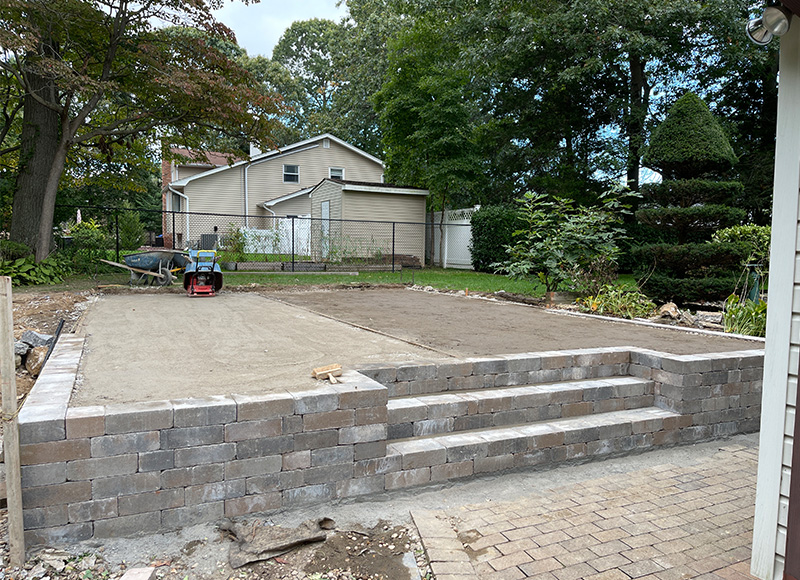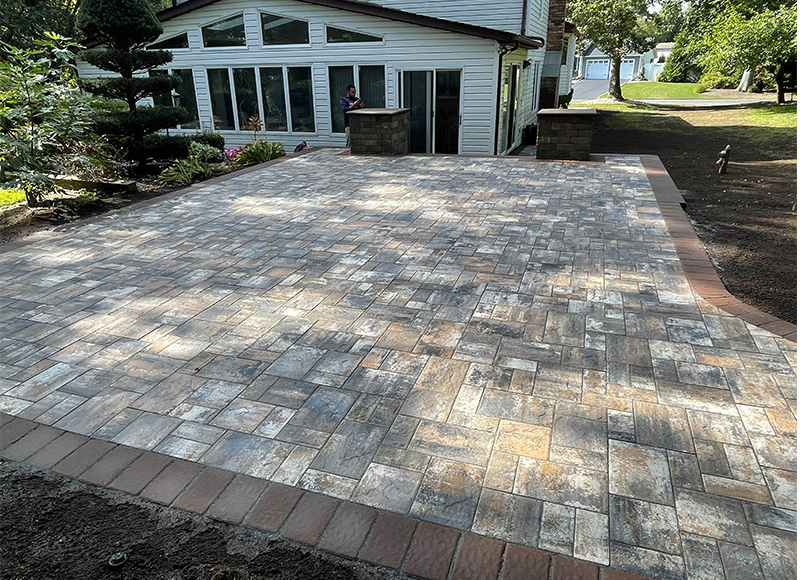 Crafting a Raised Patio
With the foundation prepared, we initiated the patio installation process. Our expert team carefully selected premium materials that harmonized with the surrounding environment and complemented the property's aesthetic and we customized the choice to match our client's preferences and budget. Our experienced workers employed cutting-edge techniques to lay the patio with accuracy, ensuring uniformity and durability.
The choice of stone harbor for the patio and walkway, accented by a 6×9 mocha single border, brings a timeless charm that complements the property's surroundings. We made sure all the pieces fit together neatly and smoothly, now the patio became a welcoming area that blends perfectly with the rest of the place.
Adding Elegance and Functionality
One of the highlights of this project was the addition of steps, using the charming colors of Toffee Onyx Lite and Mocha bullnose. These steps not only provide functionality but also enhance the overall aesthetics. Our constant communication with the client ensured their active involvement in choices and project updates. Our expertise in ground preparations, patio installation, and step construction transformed the Hauppauge property into a delightful and inviting space. Our priority was surpassing our client's expectations.
Because we're experts in ground preparations, patio installation, and step construction, we turned the Hauppauge property into a charming place.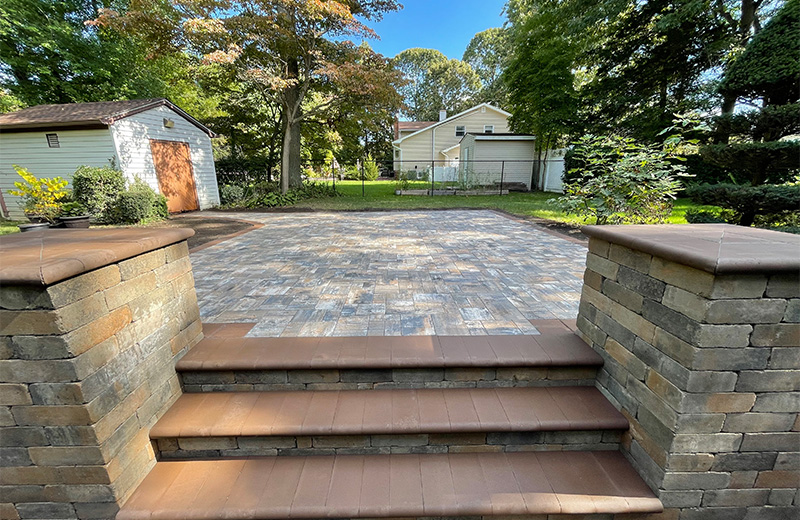 Examples of what similar projects could cost
Our Simple 5 Step process
Get our Free guide about Paver patios, to discover everything you need for a successful patio project. Save time by reading our informative eBook. Download it now by completing basic details for your free copy.
Affordable Patio serves the following villages Suffolk County, NY:
What AP Customers Are Saying
I have used Affordable Patio three times now for three different projects and I have always been happy with their service. Dealing with James and Kristina in the office is a pleasure. The entire project is thoroughly planned out and executed appropriately. I highly recommend this company. Thanks again AP for all your help!!!
Elizabeth Donohue
2023-04-07
You guys killed it. Thanks for rocking out the back patio. We're super excited to make new memories. Thanks for the great work guys
We had a wonderful experience from start to finish. James, Kristina, and the entire crew were great to work with!! We will have them back for more projects for sure!!
Working with James Gio Kristina and evo plus his team was an awesome experience. As somone in the industry I was truly impressed and couldn't believe the standard held by precision. Would recommend 10/10!! Super knowledgeable and worth every penny! felt better than family!!
I just had my patio done and from start to finish everything went amazing. From the moment they came for an estimate, to the moment they finished, everything went smoothly. All the workers were professional and worked so fast. There were no hidden costs, no surprises. Kristina in the office keeps you informed step by step from the point they send the estimate, selecting the brick, start of the project and even throughout the project. She even sent photos of different color combinations as I was indecisive at first. Can't wait to enjoy my backyard with family and friends this summer. Will definitely be using them for future projects to come. Home projects can be stressful and feel like a chore between companies not showing up for estimates, hidden costs, poor workmanship, etc. That was not the case with James, Kristina and the rest of the crew. They made it feel like a breeze!
James Donnelly
2023-03-18
Affordable Patio is an amazing company! From the estimate, to the install and the clean up. We went online and more or less got a price on our own. We then scheduled an appointment with James, Kristina answered the phone and all of our questions, she's was polite, knowledgeable and courteous! James came to give us an estimate and was able to figure out a way for us to get a fire pit! We always dreamed of a fire pit! When the install was getting done, the crew was courteous and walked us threw every step and cleaned up like we never had any work done! 5 ⭐️ I love them and recommend them to everyone!
From the initial email that I sent for a quote, to the meeting with James, to the final finished project, I have nothing but excellent things to say about this company. It was an absolute pleasure working with Kristina throughout this whole process. She was very attentive and very quick with responses and questions that I had. Joe and his crew did beautiful work on my patio. I highly recommend this company to anyone looking for a backyard transformation.
Recently had a patio done 18x 35 in size . The crew that came was one of the best that I have seen . They all worked as a team . The lead guy joe was great , explained every detail that was going to happen . They worked together and completed the job in a day and a half . The bob cat did rip up some grass but they brought in top soil and leveled. the lawn to repair the damage . Clean up was just as good . The garbage was placed in bags , removed the dirt from the driveway . Filled the track marks with top soil . Did a great job and would use them again . The entire process was painless .
James and Kristina were very helpful and got the job done very quickly. My patio came out great! I would highly recommend them.
Barbara Schwartz
2023-03-06
James, Kristina and their work crew did an amazing job. They not only did our backyard they also did stone work on the front of our home and of course our front porch. The crew always cleaned up after their work day.. We couldn't be happier with how our home turned out!
Don't Know Where To Start?
Are you ready to enjoy your family's best Memories?
A Local Presence, A Strong Commitment.
Creating Patios for Hauppauge
Known for its strong sense of community, Hauppauge fosters a warm and inviting atmosphere that aligns perfectly with the welcoming ambience of our patio installations. Hauppauge's diverse neighborhoods provide the ideal canvas for our innovative patio projects, ranging from cozy backyard escapes to elegant spaces for social gatherings. Whether you seek a peaceful sanctuary to unwind after a long day or a vibrant setting to host memorable events, our designs complement Hauppauge's unique charm and cater to your individual preferences.
Our Patios Bring Your Vision to Life
Discover the endless possibilities of outdoor living in Hauppauge, and let our patio installations showcase the true potential of your property. We look forward to transforming your vision into reality and making your outdoor space a source of joy and relaxation for years to come.
Frequently Asked Questions (FAQ) - Patio Installation in Hauppauge
1. How long does the patio installation process take?
The duration of the patio installation depends on various factors, such as the size of the project, chosen materials, and weather conditions. Typically, our team strives to complete the installation efficiently without compromising on quality, and we'll provide you with a timeline during the initial consultation.
2. What type of materials do you use for patio installations in Hauppauge?
We offer a wide range of high-quality materials to suit different preferences and budgets. These include natural stone, concrete pavers, brick, and more. During the consultation, we'll discuss the benefits and features of each material, helping you choose the one that best compliments your property.
3. Are your patio installations customizable?
Absolutely! We understand that each client has unique preferences and visions for their outdoor space. Our patio installations in Hauppauge are fully customizable, and our design team will work closely with you to create a personalized and stunning patio that aligns with your lifestyle and aesthetic preferences.
4. What is the maintenance required for the installed patio?
The level of maintenance needed for your patio will depend on the selected materials. Generally, our patio installations are designed to be low-maintenance and durable. We'll provide you with specific maintenance guidelines, ensuring that your patio remains in top condition and continues to be an enjoyable outdoor space for years to come.
5. Can you incorporate additional features into the patio design?
Absolutely! Beyond the standard patio installation, we can integrate various features to enhance the functionality and beauty of your outdoor space. From fire pits and outdoor kitchens to seating walls and lighting, our team can help you customize the patio to include the features that best suit your needs and preferences.


We hope these frequently asked questions provide you with valuable information about our patio installation services in Hauppauge. Should you have any further inquiries or wish to schedule a consultation, please don't hesitate to contact us. We look forward to transforming your outdoor space into a stunning and inviting retreat!
Patio Contractors, Paver patio contractors
Patio Construction,Paver Patio Contruction
Patio Contractors, Paver patio contractors
Patio Construction,Paver Patio Contruction
Patio Contractors, Paver patio contractors
Patio Construction,Paver Patio Contruction
Patio Contractors, Paver patio contractors
Patio Construction,Paver Patio Contruction
Patio Contractors, Paver patio contractors
Patio Construction,Paver Patio Contruction
Patio Contractors, Paver patio contractors
Patio Construction,Paver Patio Contruction
Patio Contractors, Paver patio contractors
Patio Construction,Paver Patio Contruction
Patio Contractors, Paver patio contractors
Patio Construction,Paver Patio Contruction
Patio Contractors, Paver patio contractors
Patio Construction,Paver Patio Contruction
Patio Contractors, Paver patio contractors
Patio Construction,Paver Patio Contruction
Patio Contractors, Paver patio contractors
Patio Construction,Paver Patio Contruction
Patio Contractors, Paver patio contractors
Patio Construction,Paver Patio Contruction
Patio Contractors, Paver patio contractors
Patio Construction,Paver Patio Contruction
Patio Contractors, Paver patio contractors
Patio Construction,Paver Patio Contruction
Patio Contractors, Paver patio contractors
Patio Construction,Paver Patio Contruction
Patio Contractors, Paver patio contractors
Patio Construction,Paver Patio Contruction