Suffolk County Premier sitting wall Installer
Seat walls are a great addition to your outdoor project. When adding any type of vertical feature like a Stone Seating Wall or paver sitting wall to your flat work, it adds depth to the project and makes your home look more grand. Explore your options with colors and designs regarding sitting walls below.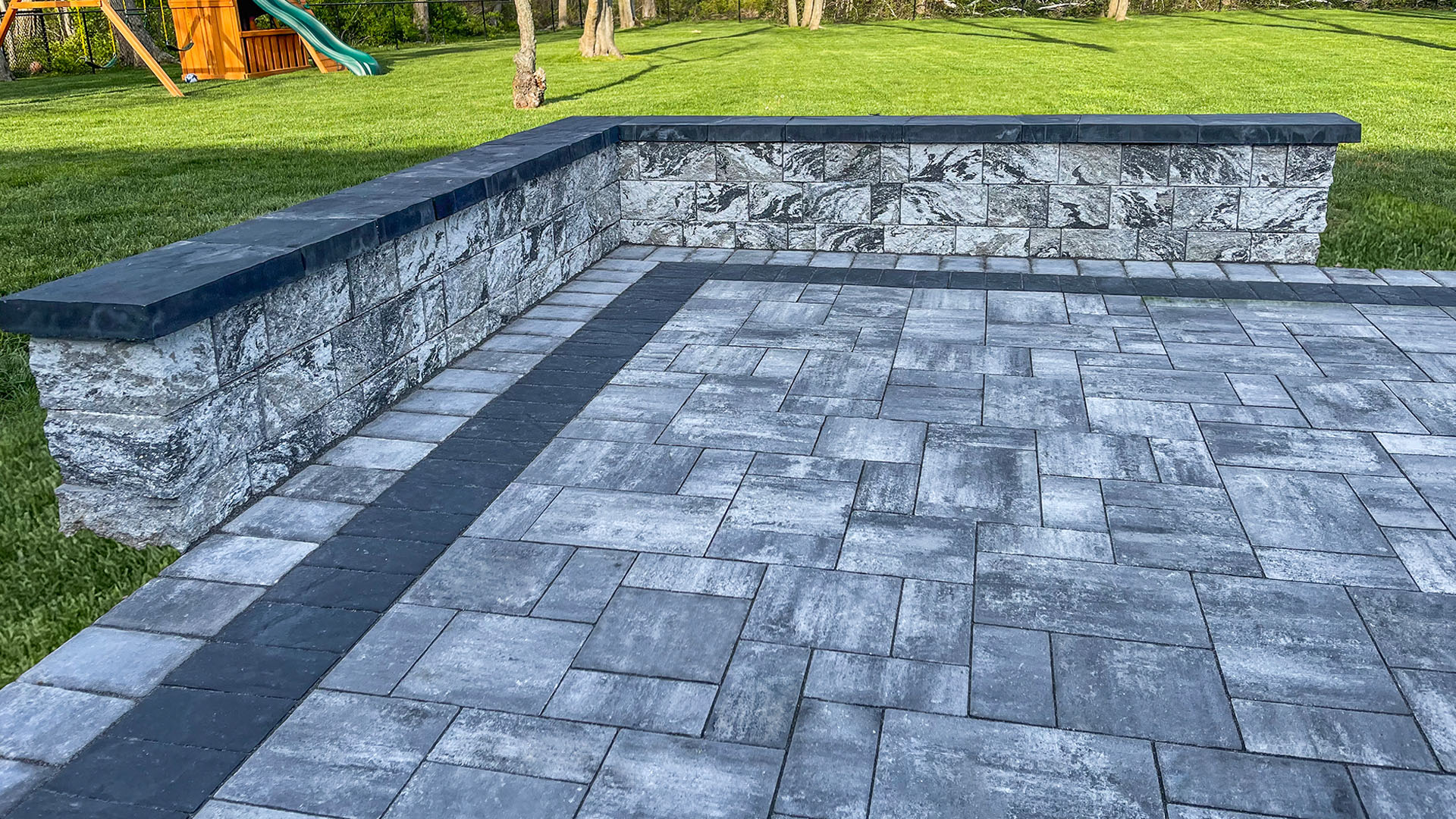 We are voted Long Island's top masonry contractor that installs Sitting wall and Stone Seating Wall to amplify your outdoor living space. We have been installing amazing outdoor living spaces for Suffolk County over the last 15 years & noticed seat walls are a great way to save space and add character to your project at the same time!. Finally, we have provided information below to learn how we install a sitting wall, frequently asked questions, and videos of the benefits of having a sitting wall. Generally, we install all of our walls by manufacturer specs to ensure the longevity of your project.
How Much Does a Sitting Wall Cost?
What's under our Sitting Walls
All of our sitting walls are built on a concrete footing. This concrete is mixed on site using a mixture of sand, Portland and water. What we do is excavate 4-8 inches down and 12 inches wide and compact the soil. We then add our concrete footing and set our first course on top of the concrete so it will bond as one unit.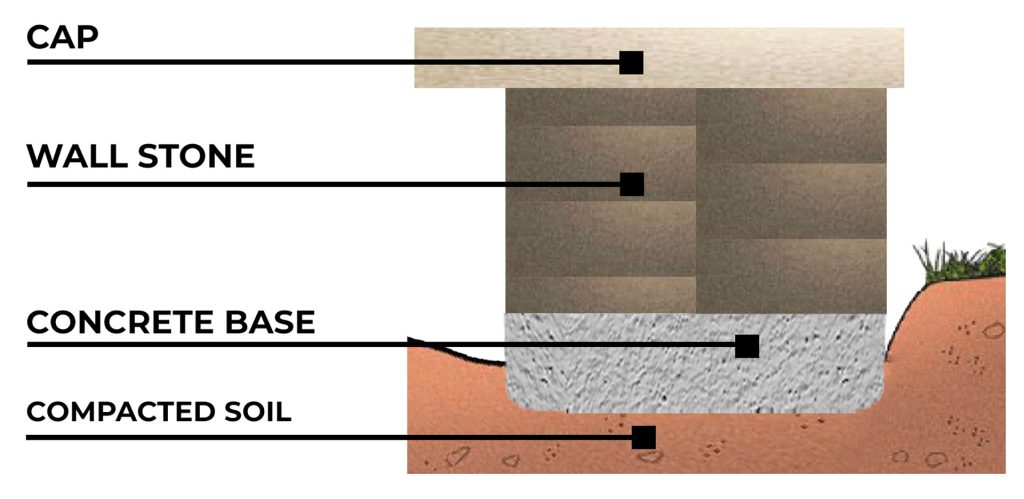 After patio heights are set, we begin to figure out the heights of the seat wall, including paver sitting wall and patio sitting wall options. The team will decide when they want to build the wall, during or after the patio process. Once the heights are determined, the crew will dig for the footings.
As a result, a typical footing for our normal sitting walls, such as paver sitting walls and patio sitting walls, is about 6 inches deep with the first course set in the concrete. Each course is glued to the next. This meticulous process ensures structural integrity as well as a visually appealing finish.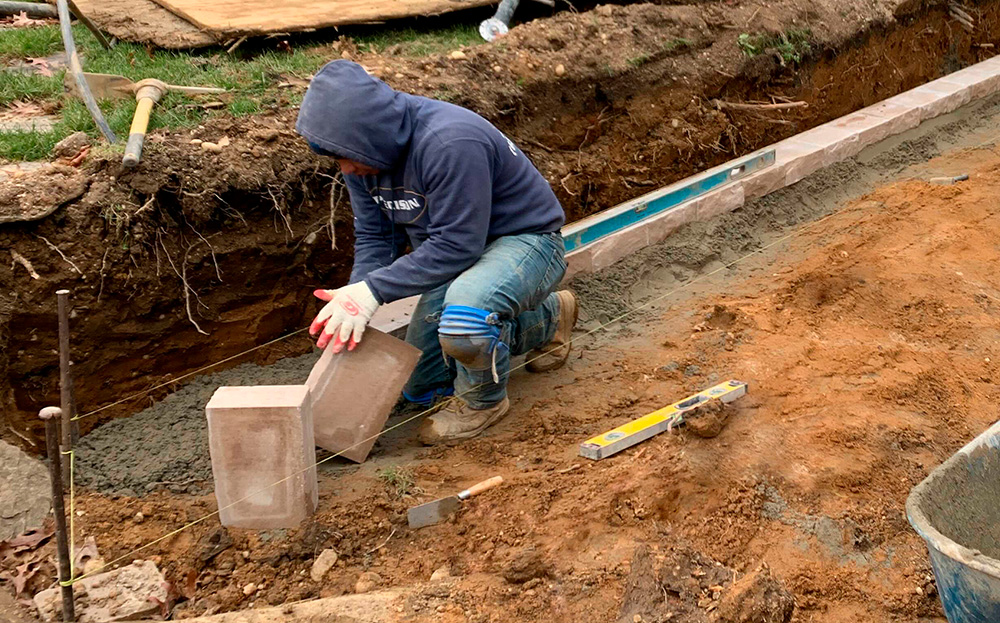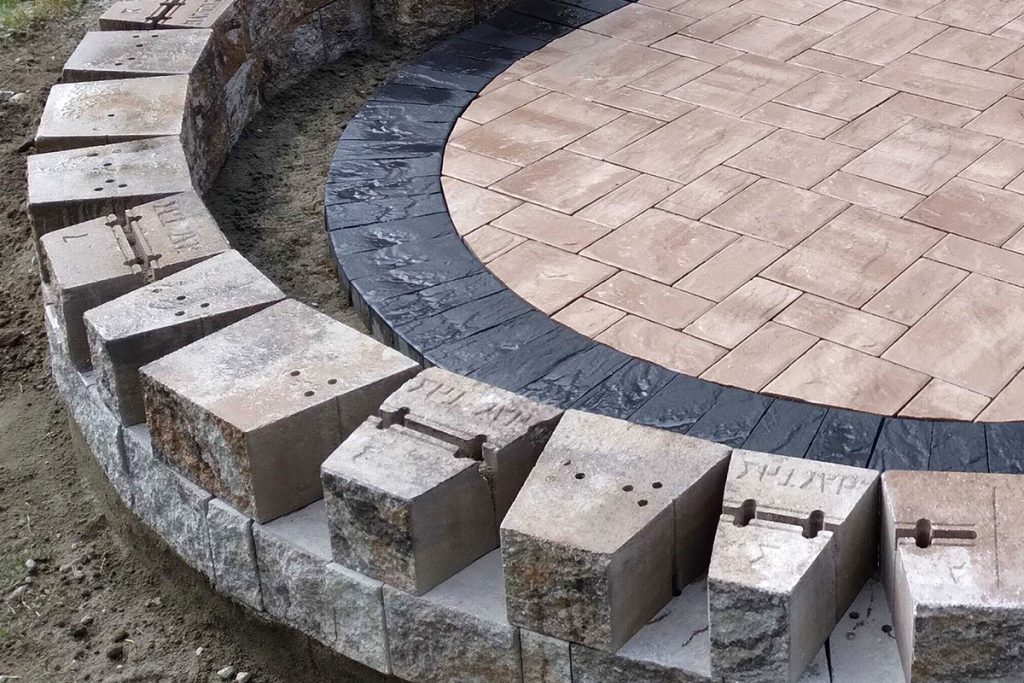 Depending on the Wallstone you choose, designs can vary. When choosing a cap, you can opt for various concrete products by Cambridge or even natural stones like bluestone. Firstly, when designing curved walls, take into consideration both sides of the wall may need to be cut, resulting in more time and material, thus increasing the price. Equally, sitting walls are most commonly built to be 18-22 inches tall for the most comfortable sitting position.
There are many different types of seat walls. The main difference would be the material you choose. Virtually, all materials can be built to the same design but some require more work than others. Some of the most common materials we use are made by cambridge, called olde english wall and maytrx wall, also culture stone. Olde English and culture stone are most commonly used for straight or non-curved walls. Maytrx wall stone can be used for either application. Seat walls can be built like benches or like a sofa that has a back support.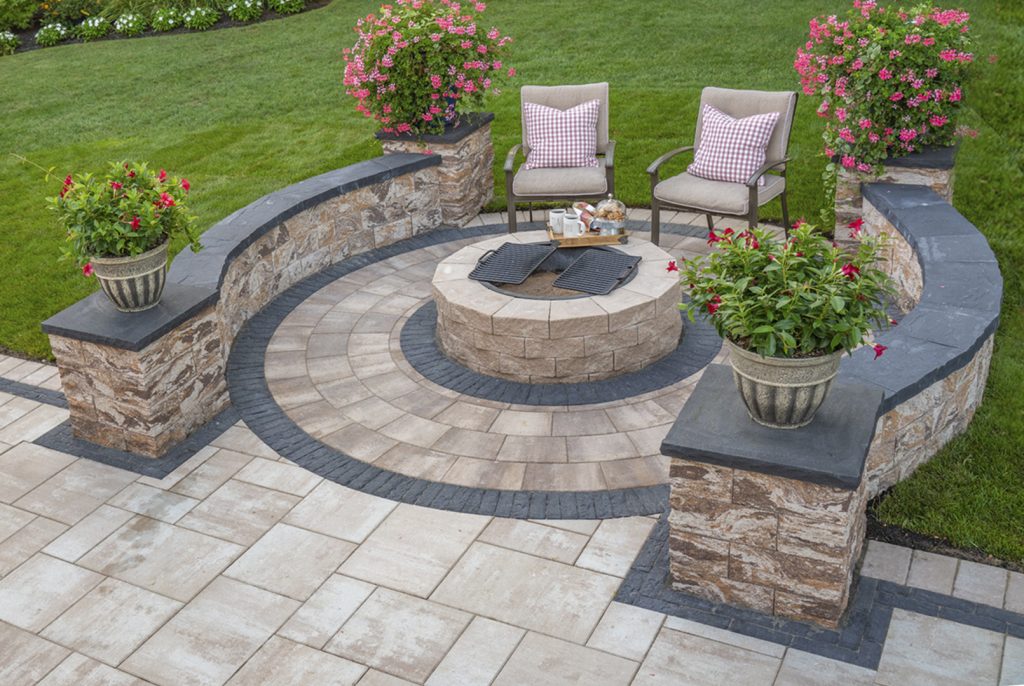 Check out some of our projects
What AP Customers Are Saying
I have used Affordable Patio three times now for three different projects and I have always been happy with their service. Dealing with James and Kristina in the office is a pleasure. The entire project is thoroughly planned out and executed appropriately. I highly recommend this company. Thanks again AP for all your help!!!
Elizabeth Donohue
2023-04-07
You guys killed it. Thanks for rocking out the back patio. We're super excited to make new memories. Thanks for the great work guys
We had a wonderful experience from start to finish. James, Kristina, and the entire crew were great to work with!! We will have them back for more projects for sure!!
Working with James Gio Kristina and evo plus his team was an awesome experience. As somone in the industry I was truly impressed and couldn't believe the standard held by precision. Would recommend 10/10!! Super knowledgeable and worth every penny! felt better than family!!
I just had my patio done and from start to finish everything went amazing. From the moment they came for an estimate, to the moment they finished, everything went smoothly. All the workers were professional and worked so fast. There were no hidden costs, no surprises. Kristina in the office keeps you informed step by step from the point they send the estimate, selecting the brick, start of the project and even throughout the project. She even sent photos of different color combinations as I was indecisive at first. Can't wait to enjoy my backyard with family and friends this summer. Will definitely be using them for future projects to come. Home projects can be stressful and feel like a chore between companies not showing up for estimates, hidden costs, poor workmanship, etc. That was not the case with James, Kristina and the rest of the crew. They made it feel like a breeze!
James Donnelly
2023-03-18
Affordable Patio is an amazing company! From the estimate, to the install and the clean up. We went online and more or less got a price on our own. We then scheduled an appointment with James, Kristina answered the phone and all of our questions, she's was polite, knowledgeable and courteous! James came to give us an estimate and was able to figure out a way for us to get a fire pit! We always dreamed of a fire pit! When the install was getting done, the crew was courteous and walked us threw every step and cleaned up like we never had any work done! 5 ⭐️ I love them and recommend them to everyone!
From the initial email that I sent for a quote, to the meeting with James, to the final finished project, I have nothing but excellent things to say about this company. It was an absolute pleasure working with Kristina throughout this whole process. She was very attentive and very quick with responses and questions that I had. Joe and his crew did beautiful work on my patio. I highly recommend this company to anyone looking for a backyard transformation.
Recently had a patio done 18x 35 in size . The crew that came was one of the best that I have seen . They all worked as a team . The lead guy joe was great , explained every detail that was going to happen . They worked together and completed the job in a day and a half . The bob cat did rip up some grass but they brought in top soil and leveled. the lawn to repair the damage . Clean up was just as good . The garbage was placed in bags , removed the dirt from the driveway . Filled the track marks with top soil . Did a great job and would use them again . The entire process was painless .
James and Kristina were very helpful and got the job done very quickly. My patio came out great! I would highly recommend them.
Barbara Schwartz
2023-03-06
James, Kristina and their work crew did an amazing job. They not only did our backyard they also did stone work on the front of our home and of course our front porch. The crew always cleaned up after their work day.. We couldn't be happier with how our home turned out!
Stone Seating Wall, paver sitting wall
Stone Seating Wall, paver sitting wall