Suffolk County Expert Driveway Installer
The 2 main reasons to get a new driveway patio or paver driveway are either expansion or deterioration. Asphalt is known to settle, crumble, and crack over years and years of driving over it. However, it is a great and cost-effective material for driveway use!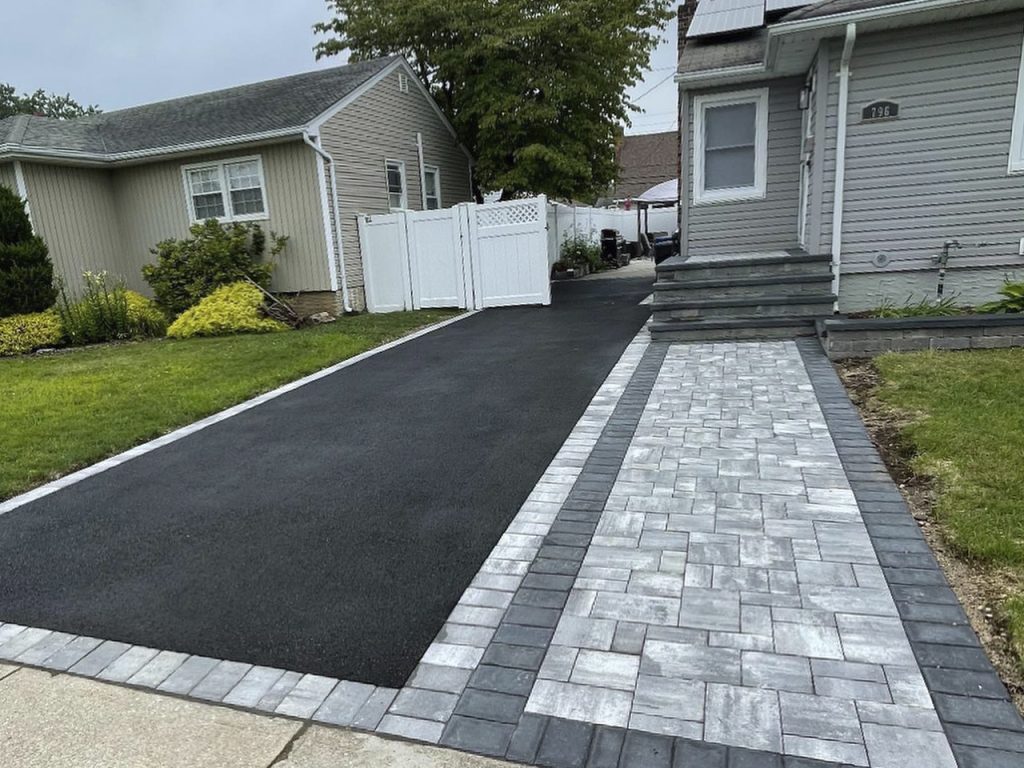 Over the last 15 years, affordablepatio.com has installed over 1,000 driveways and has been recognized as Suffolk County's Premier Driveway Installer. We strive to educate our customers as much as possible by providing all the necessary information they need to make the right decision. When it comes to driveways, we specialize in asphalt driveways and paver driveways. We always install all applications to manufacturer specs, in order to ensure your driveway's longevity.
As a result, our expertise and commitment to quality has earned us a reputation for excellence. More information is included below about your upcoming project. Keep reading to learn more about the estimated cost of a new driveway, what the installation process is like, and some frequently asked questions. Our dedication extends as well as your satisfaction.
How much does a blacktop/asphalt driveway cost?
What's under our Driveways
We install our driveways with a 4-inch crushed concrete base, compacted with a power roller. Next step after the masonry end is done, is coming back and regrading the base and power rolling again. Finally, we install 2 inches of asphalt blacktop and power roll again to leave the blacktop smooth. For those seeking driveway patios ideas, our process ensures a solid foundation. Generally, this comprehensive approach guarantees a durable and visually appealing result.
The first step to getting a new paver driveway is ripping up your existing asphalt and subbase. After carting that away, we'll compact the ground and add a new RCA subbase. The RCA will be compacted using a power roller. It is advised you park on the subbase for the next 2-3 weeks to help it settle more before its time to do the new asphalt. If you are expanding your driveway into an area that was lawn, we will cart away all the soil as well.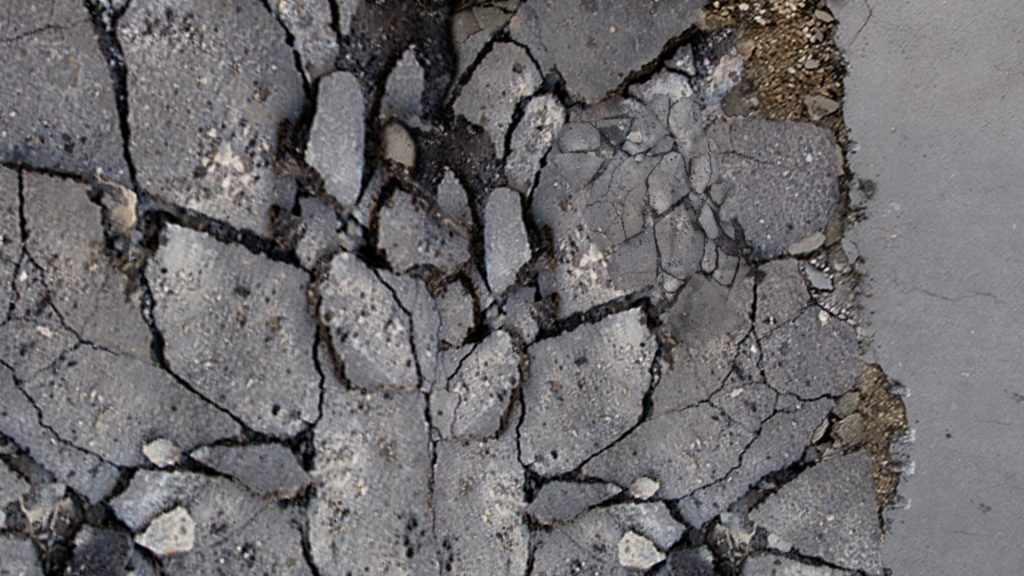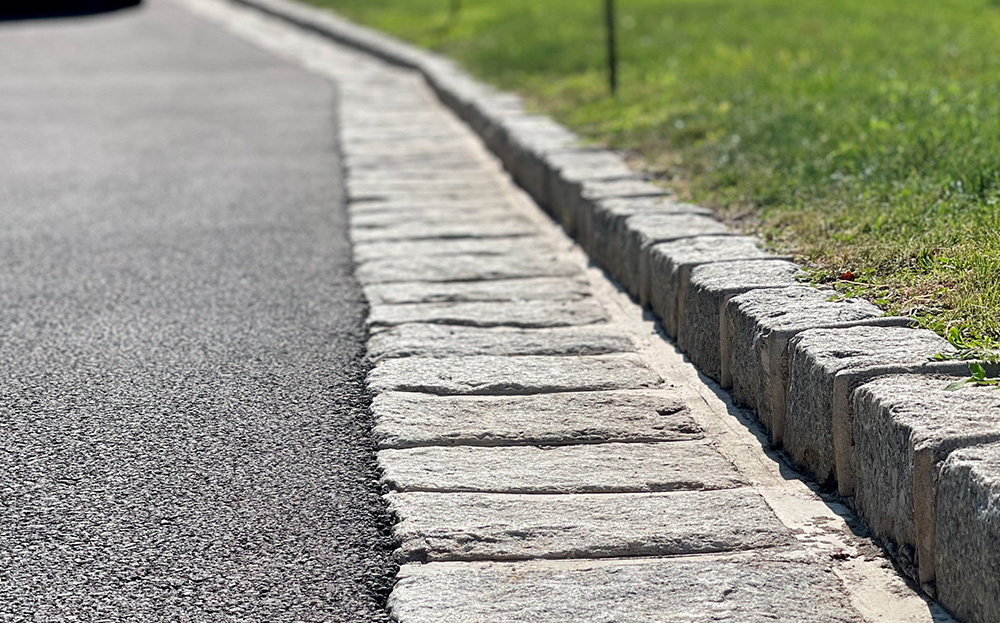 Adding Masonry Products to Your Driveway
After the existing driveway was taken away and the new base was installed it is your choice if you want to add masonry products to your driveway. For example, borders, aprons, curbing or any type of inlays. Applications like paver borders, paver aprons or belgium block curbs are installed on a concrete subbase.
When it is time for the new asphalt to get put down, we will repeat the subbase process one more time adding rca and compacting it in the necessary parts. The asphalt will be put down and spread with either a pave box or hand raked depending on the size of the driveway. The asphalt will be spread at 2 inches and then compacted, most likely leaving the asphalt at 1 and a half inches thick, Not visible to the eye. This is the appropriate thickness of asphalt.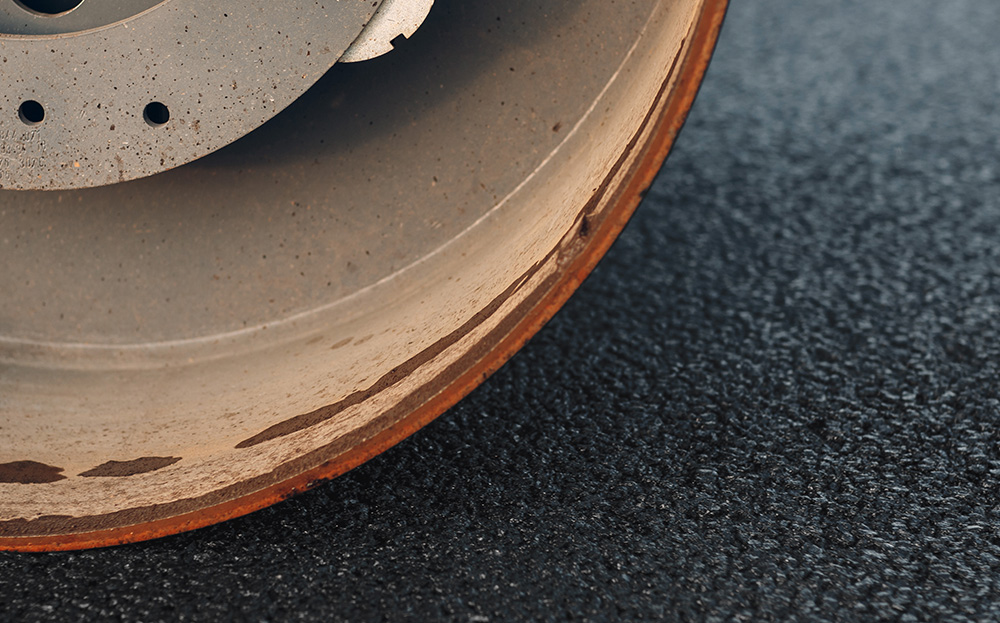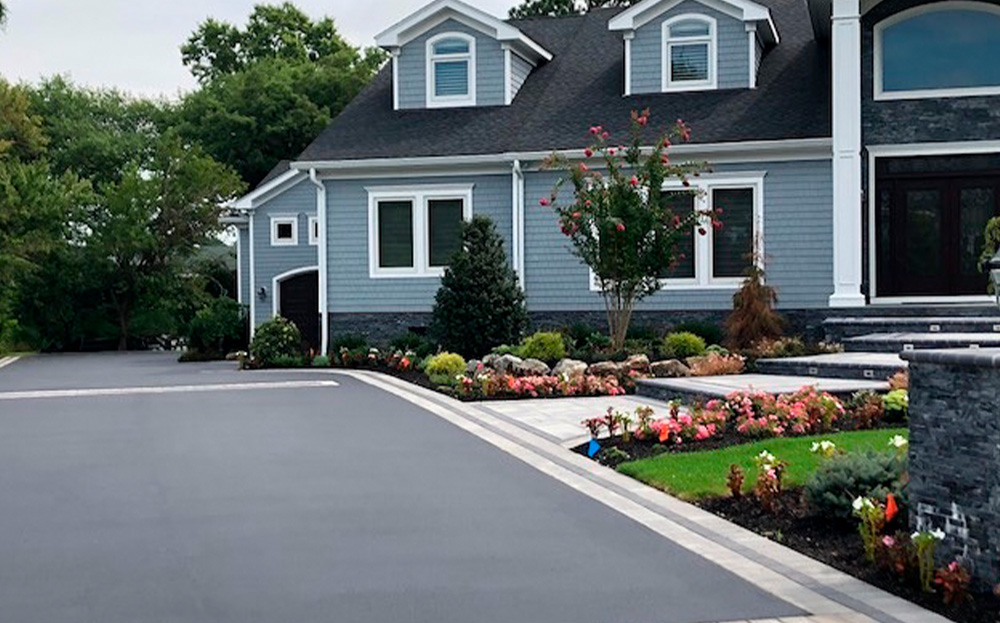 After completion, wait at least 4 to 7 days before driving on the new asphalt. Sometimes the heat from your tires can cause imprints on your new driveway. If you are interested in getting your new driveway sealcoated, we recommend waiting at least 2 years or when the aggregate starts showing and the asphalt doesn't appear black anymore.
Check out some of our projects
What AP Customers Are Saying
I have used Affordable Patio three times now for three different projects and I have always been happy with their service. Dealing with James and Kristina in the office is a pleasure. The entire project is thoroughly planned out and executed appropriately. I highly recommend this company. Thanks again AP for all your help!!!
Elizabeth Donohue
2023-04-07
You guys killed it. Thanks for rocking out the back patio. We're super excited to make new memories. Thanks for the great work guys
We had a wonderful experience from start to finish. James, Kristina, and the entire crew were great to work with!! We will have them back for more projects for sure!!
Working with James Gio Kristina and evo plus his team was an awesome experience. As somone in the industry I was truly impressed and couldn't believe the standard held by precision. Would recommend 10/10!! Super knowledgeable and worth every penny! felt better than family!!
I just had my patio done and from start to finish everything went amazing. From the moment they came for an estimate, to the moment they finished, everything went smoothly. All the workers were professional and worked so fast. There were no hidden costs, no surprises. Kristina in the office keeps you informed step by step from the point they send the estimate, selecting the brick, start of the project and even throughout the project. She even sent photos of different color combinations as I was indecisive at first. Can't wait to enjoy my backyard with family and friends this summer. Will definitely be using them for future projects to come. Home projects can be stressful and feel like a chore between companies not showing up for estimates, hidden costs, poor workmanship, etc. That was not the case with James, Kristina and the rest of the crew. They made it feel like a breeze!
James Donnelly
2023-03-18
Affordable Patio is an amazing company! From the estimate, to the install and the clean up. We went online and more or less got a price on our own. We then scheduled an appointment with James, Kristina answered the phone and all of our questions, she's was polite, knowledgeable and courteous! James came to give us an estimate and was able to figure out a way for us to get a fire pit! We always dreamed of a fire pit! When the install was getting done, the crew was courteous and walked us threw every step and cleaned up like we never had any work done! 5 ⭐️ I love them and recommend them to everyone!
From the initial email that I sent for a quote, to the meeting with James, to the final finished project, I have nothing but excellent things to say about this company. It was an absolute pleasure working with Kristina throughout this whole process. She was very attentive and very quick with responses and questions that I had. Joe and his crew did beautiful work on my patio. I highly recommend this company to anyone looking for a backyard transformation.
Recently had a patio done 18x 35 in size . The crew that came was one of the best that I have seen . They all worked as a team . The lead guy joe was great , explained every detail that was going to happen . They worked together and completed the job in a day and a half . The bob cat did rip up some grass but they brought in top soil and leveled. the lawn to repair the damage . Clean up was just as good . The garbage was placed in bags , removed the dirt from the driveway . Filled the track marks with top soil . Did a great job and would use them again . The entire process was painless .
James and Kristina were very helpful and got the job done very quickly. My patio came out great! I would highly recommend them.
Barbara Schwartz
2023-03-06
James, Kristina and their work crew did an amazing job. They not only did our backyard they also did stone work on the front of our home and of course our front porch. The crew always cleaned up after their work day.. We couldn't be happier with how our home turned out!
driveway patio, driveway patio
driveway patio, asphalt Driveway, paver driveway