Best Patio Installation Company in Patchogue
Patio installation in Patchogue, patio installers near me, Patio construction in Patchogue.We have installed over 200 paver patio in the area!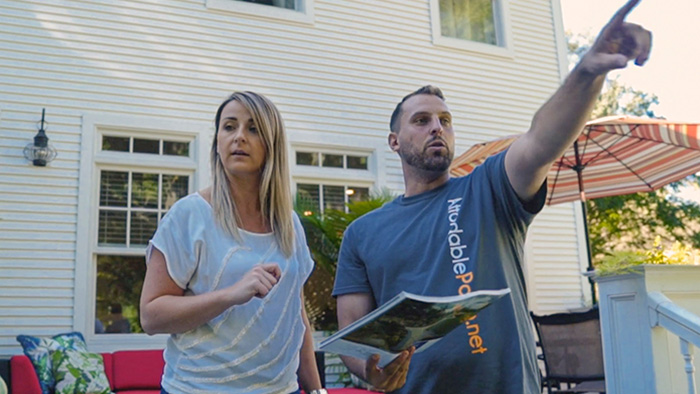 Full Service Masonry Company and Patio construction in Patchogue
Patchogue is a fantastic place to live, work, and enjoy your free time. Situated on the south shore, it has a lively Main Street with lots of great restaurants, shops, and places for entertainment. During the summer, we love hanging out at James Joyce and Dublin Deck. Even though Patchogue is relatively small, covering only 2.50 square miles, we're proud to share that we've installed over 125 patios here in the past 13 years! It's been an honor to help families create lasting memories with these additional outdoor spaces. Along the way, we've noticed that all our customers are laid-back people who simply love relaxing and spending time outside.
When we work in Patchogue, we always rely on the local hardware stores like Lowe's Hardware and Woodside Nursery & Garden Center. When you choose us, you can be confident that our team will handle your project with the highest level of professionalism and care. Rest assured that you've picked the best patio company in the Patchogue area.
Call Us or Build Price Online.
Select Front Yard, Backyard or Pool Patio
Here is a project that our team completed of Patio construction in Patchogue
Expert Patio Installation in Patchogue: Transform Your Outdoor Space.
At the start of our patio installation project, we first ask your permission to remove a section or two of the fence, allowing our skid steer to access the area easily. This smart move enabled us to complete the job in half the time. Thanks to our efficient process and machinery, we were able to excavate the soil and start installing the base and pavers on the same day.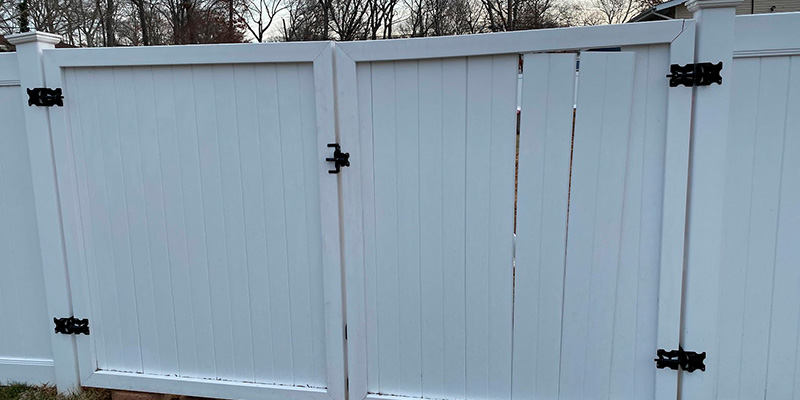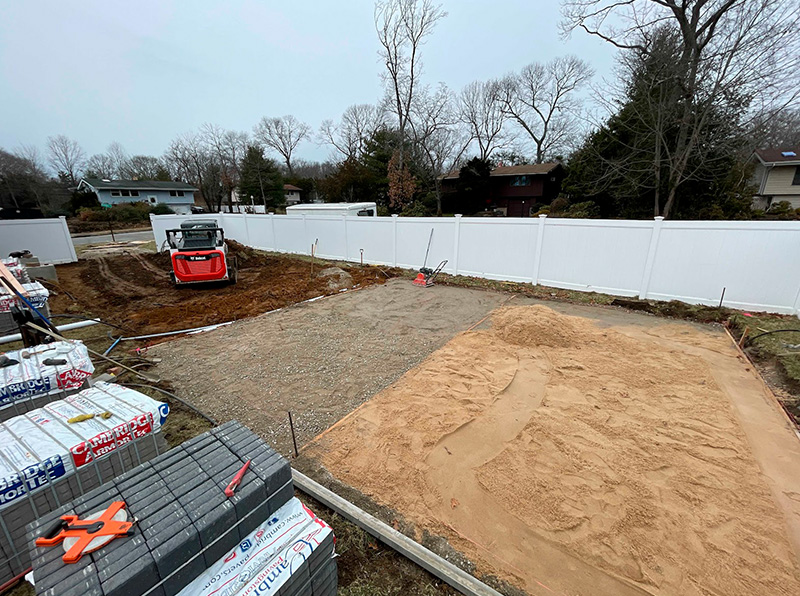 Excavating Process and Setting Up to Install Pavers.
To begin the digging process, we aligned stringlines at the desired paver height and excavated 7-8 inches below. After excavation, we added an RCA subbase (recycled concrete aggregate).First with the excavation, base installation, sand laying, and paver placement while preparing for the "double border" design, featuring toffee onyx lite with a coal border and an outer course of toffee onyx lite.
Contact us for professional patio installation in Patchogue. Experience high quality craftsmanship and efficient service that goes beyond expectations.
Premier Patio Construction in Patchogue by Expert Paver Patio Contractors.
This patio was completed using Cambridge ledgestone 3-piece pavers toffee onyx-lite smooth with 6×9 coal in-lay border.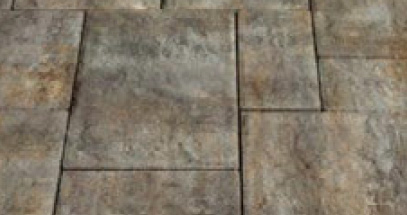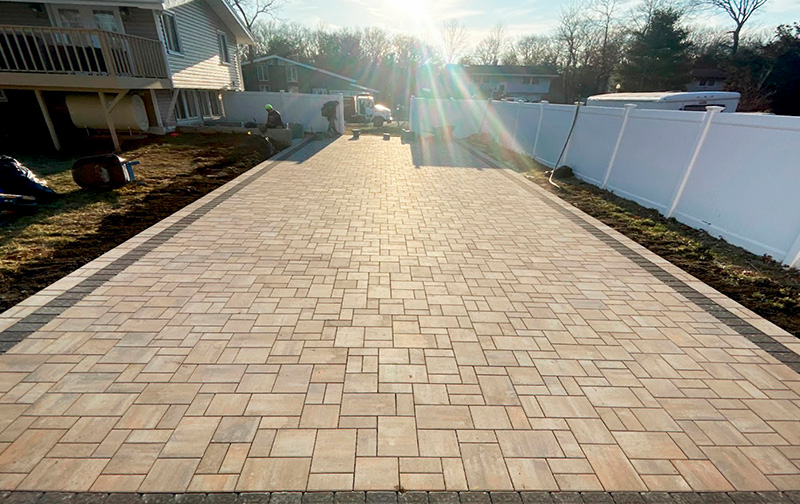 Securing Your Paver Patio with Concrete Edge, by the Best Paver Patio Installers Near Me.
For added stability, all the exposed edges of the patio were reinforced with a concrete edge restraint to prevent the borders from shifting. After laying the pavers, the final step was to add polymeric sand. This special sand from Alliance Gator has agents that harden when wet, preventing weeds and ants from disturbing your paver joints. We recommend waiting until the pavers appear dry before walking on the patio and giving it 15 hours before hosing down the pavers. 
Patio Installers Near Me: Trusted Experts in Patchogue.
We're really proud of our work in Patchogue, where we're a local company that cares enormously about our community. All our work comes with warranties and adheres to manufacturer specifications. For this patio, we used Cambridge paver stone with Armortec, offering a wide range of colors and styles. As a fully licensed and insured company, we perform all the work in-house with our trained employees, ensuring high quality workers and customer satisfaction. Trust the best paver patio installers in Patchogue for your outdoor project needs.
Examples of what similar projects could cost
Our Simple 5 Step process
Get our Free guide about Paver patios, learn all you need to know in order to have your patio build. You can save time by reading our guide. We compile all the best and most up to date information about patios, download our eBook now. Just complete some of your basic information and get your free copy:
Affordable Patio serves the following villages Suffolk County, NY:
What AP Customers Are Saying
I have used Affordable Patio three times now for three different projects and I have always been happy with their service. Dealing with James and Kristina in the office is a pleasure. The entire project is thoroughly planned out and executed appropriately. I highly recommend this company. Thanks again AP for all your help!!!
Elizabeth Donohue
2023-04-07
You guys killed it. Thanks for rocking out the back patio. We're super excited to make new memories. Thanks for the great work guys
We had a wonderful experience from start to finish. James, Kristina, and the entire crew were great to work with!! We will have them back for more projects for sure!!
Working with James Gio Kristina and evo plus his team was an awesome experience. As somone in the industry I was truly impressed and couldn't believe the standard held by precision. Would recommend 10/10!! Super knowledgeable and worth every penny! felt better than family!!
I just had my patio done and from start to finish everything went amazing. From the moment they came for an estimate, to the moment they finished, everything went smoothly. All the workers were professional and worked so fast. There were no hidden costs, no surprises. Kristina in the office keeps you informed step by step from the point they send the estimate, selecting the brick, start of the project and even throughout the project. She even sent photos of different color combinations as I was indecisive at first. Can't wait to enjoy my backyard with family and friends this summer. Will definitely be using them for future projects to come. Home projects can be stressful and feel like a chore between companies not showing up for estimates, hidden costs, poor workmanship, etc. That was not the case with James, Kristina and the rest of the crew. They made it feel like a breeze!
James Donnelly
2023-03-18
Affordable Patio is an amazing company! From the estimate, to the install and the clean up. We went online and more or less got a price on our own. We then scheduled an appointment with James, Kristina answered the phone and all of our questions, she's was polite, knowledgeable and courteous! James came to give us an estimate and was able to figure out a way for us to get a fire pit! We always dreamed of a fire pit! When the install was getting done, the crew was courteous and walked us threw every step and cleaned up like we never had any work done! 5 ⭐️ I love them and recommend them to everyone!
From the initial email that I sent for a quote, to the meeting with James, to the final finished project, I have nothing but excellent things to say about this company. It was an absolute pleasure working with Kristina throughout this whole process. She was very attentive and very quick with responses and questions that I had. Joe and his crew did beautiful work on my patio. I highly recommend this company to anyone looking for a backyard transformation.
Recently had a patio done 18x 35 in size . The crew that came was one of the best that I have seen . They all worked as a team . The lead guy joe was great , explained every detail that was going to happen . They worked together and completed the job in a day and a half . The bob cat did rip up some grass but they brought in top soil and leveled. the lawn to repair the damage . Clean up was just as good . The garbage was placed in bags , removed the dirt from the driveway . Filled the track marks with top soil . Did a great job and would use them again . The entire process was painless .
James and Kristina were very helpful and got the job done very quickly. My patio came out great! I would highly recommend them.
Barbara Schwartz
2023-03-06
James, Kristina and their work crew did an amazing job. They not only did our backyard they also did stone work on the front of our home and of course our front porch. The crew always cleaned up after their work day.. We couldn't be happier with how our home turned out!
Don't Know Where To Start?
Are you ready to enjoy your family's best Memories?
A Local Presence, A Strong Commitment: Trustworthy Patio Installers Near Me.
Patchogue's Premier Patio Designs: Elevating Your Outdoor Living.
At AffordablePatio.com, we believe that a patio is more than just an outdoor space; it's a place for relaxation, gatherings, and creating lasting memories with loved ones. Our team stands out in designing custom patios adapted to your unique needs and preferences. From elegant patio patterns to natural stone charm, we build patio spaces that elevate your outdoor living experience. We have the best patio paver installers!
Outdoor Kitchens: Where Culinary Excellence Meets Fresh Air.
Imagine cooking your favorite meals under the open sky while surrounded by the beauty of Patchogue. AffordablePatio.com specializes in designing and constructing unique outdoor kitchens and BBQs that blend style and functionality. Our outdoor kitchen solutions make your dining a delightful experience for you and your guests. Trust our experts of paver patio installers near you for culinary excellence in your outdoor space.
Excellence in Retaining Walls: Functional Beauty for Your Property.
Whether your yard is a bit uneven or you want cool garden steps, our skilled workers at AffordablePatio.com have the expertise to make amazing and strong retaining walls. Improve your property's landscape with retaining walls that combine form and function to perfection. As the top patio installers near you, we are committed to delivering excellence in every aspect of your outdoor project.
Collaborative Design: Turning Your Vision into Reality with Patio Construction in Patchogue.
At AffordablePatio.com puts your vision first. We team up with you from start to finish, making sure your ideas shine in the final plan. From the very beginning to the last little details, we work closely with you to create a space that reflects your personality and improves your lifestyle. Trust our expertise as the top patio installers near you in Patchogue to bring your outdoor dreams to life.
Cozy Nights with Outdoor Fireplaces: Embrace the Seasons in Patchogue.
Expand your outdoor enjoyment throughout the seasons with our elegant outdoor fireplaces. AffordablePatio.com creates fireplace designs that provide warmth and ambiance, transforming your backyard into a perfect retreat on cool evenings in Patchogue. Elevate your outdoor living experience with our professional patio construction services.
Conclusion
As the leading full-service patio installation company in Patchogue, AffordablePatio.com is fully devoted to transforming outdoor living spaces into fascinating and functional retreats. Our dedication to excellent skill, cooperative design, and personalized service sets us apart from the competition. Whether you dream of a wonderful patio, an inviting outdoor kitchen, stunning retaining walls, or anything else, our locally-based team is ready to bring your vision to life. Contact us for exceptional patio construction in Patchogue and create the outdoor oasis you've always wanted.
Frequently Asked Questions (FAQ)
Q: Why should I choose AffordablePatio.com for my outdoor living project in Patchogue?
A: At AffordablePatio.com, we have over a decade of experience in creating exceptional outdoor spaces in Patchogue. Our locally-based team is dedicated to delivering top-notch craftsmanship and personalized service to our valued clients.
Q: What types of materials do you use for patio construction in Patchogue?
A: We offer a wide range of materials, including pavers, natural stone, and concrete, for patio construction in Patchogue. Our team will work with you to select the best material that suits your style and budget.
Q: How long does it take to complete a typical outdoor kitchen project in Patchogue?
A: The duration of an outdoor kitchen project depends on its complexity and size. Our team will provide a detailed timeline during the consultation phase, ensuring efficient completion without compromising quality.
Q: Can you create custom designs for retaining walls to match my landscape in Patchogue?
A: Absolutely! We take pride in our ability to create custom retaining wall designs that complement your landscape and fulfill your functional needs in Patchogue.
Q: Is AffordablePatio.com licensed and insured in Patchogue
A: Yes, AffordablePatio.com is fully licensed and insured in Patchogue. Our commitment to professionalism and safety ensures peace of mind for our clients throughout the project.
Contact AffordablePatio.com on 1 (631) 275-3142 today to begin your journey toward a breathtaking outdoor space in Patchogue. Let our experienced team bring your vision to life!