Best Patio Installation Company in Holbrook
Patio ideas for Holbrook. Front yard walkways ideas. Pool patio ideas. We have installed over 200 patios in the area!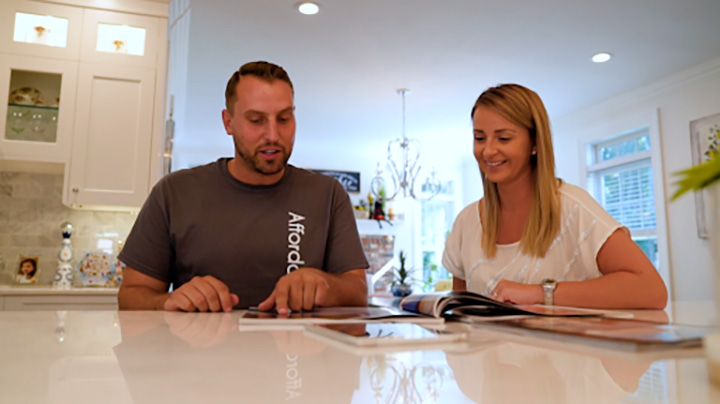 Full Service Masonry Company in Holbrook
Over the past 13 years in business, the town of Holbrook has been home to our largest number of projects. Kristina and Gio both grew up in Holbrook and went to Grundy Elementary School and Seneca Middle School. Then, while attending Sachem High School, Kristina and James met. With a long history of family ties in this area, we enjoy giving back to this wonderful community by providing neighbors with new outdoor spaces. Being a local small business, some of our favorite projects occur close to home.
One thing we love about Holbrook are the people in the community. We have found them all to be friendly and enjoy spending their time outside in the backyard. All of our customers understand the value of their properties and take pride in improving their homes. James, who grew up in Lake Grove, fell in with Holbrook during his first job working at Ralph's Italian Ices. It was there that James discovered his appreciation for the community and the people who make it such a great place to live.
Call Us or Build Price Online.
Select Front Yard, Backyard or Pool Patio
Here is a job we completed in Holbrook back in 2022. It happens to be one of our favorite projects to date!
In just 7 days, our team completed an amazing renovation in Holbrook. The homeowner's backyard had a big transformation with the installation of a new concrete pool wall. Our job was to design and create the perfect living space around the pool patio. At first, we removed an existing patio outside by their backdoor due to the old pavers and unusable concrete base. Then, we prepared for the pouring of a new concrete base surrounding the pool. This is a highly recommended option for new installed pools to ensure stability while the soil settles from the pool excavation. After the ground is cleared and forms in place, we carefully poured the concrete subbase, to get the stage ready for the pool patio ideas to come to life.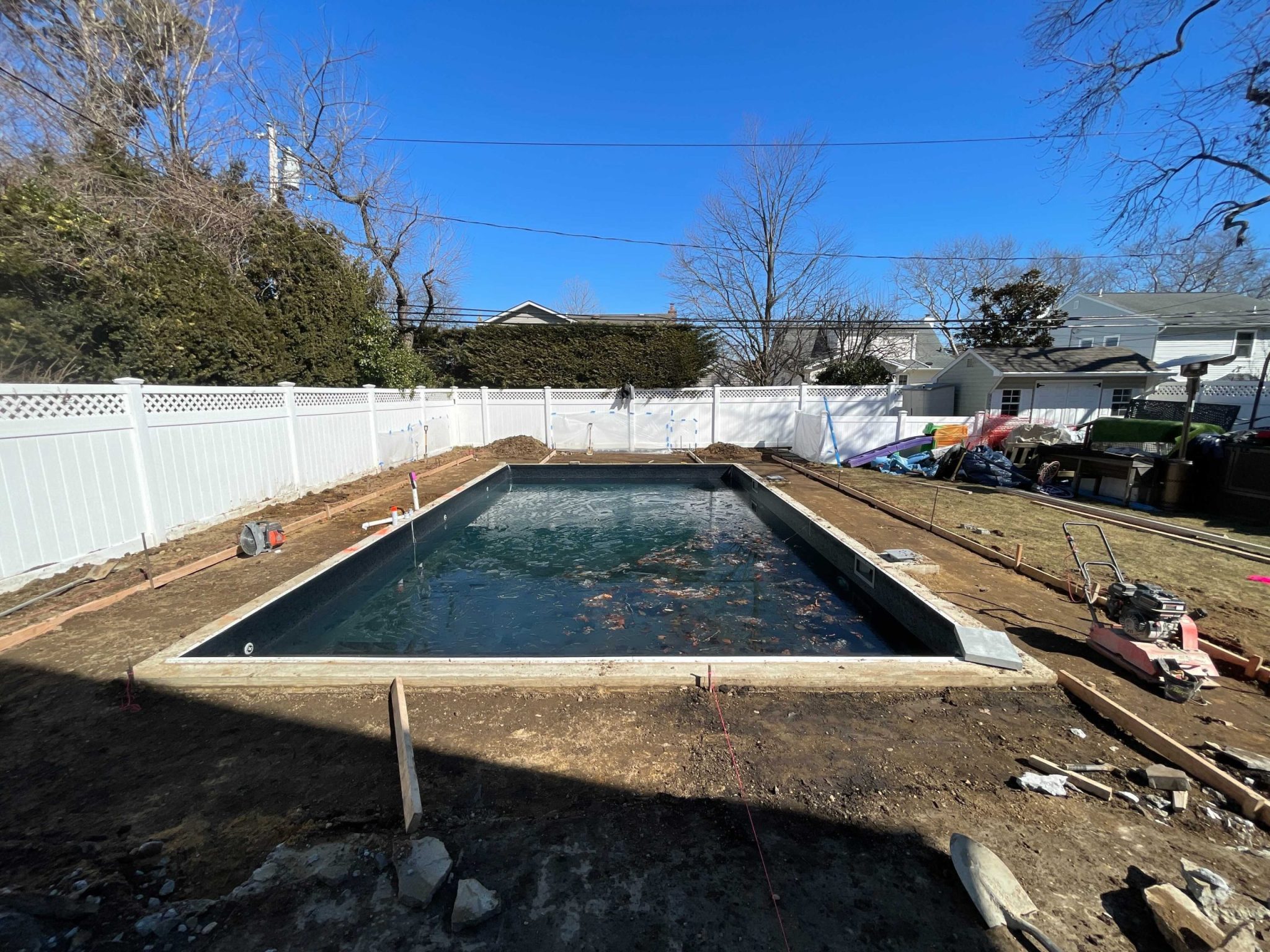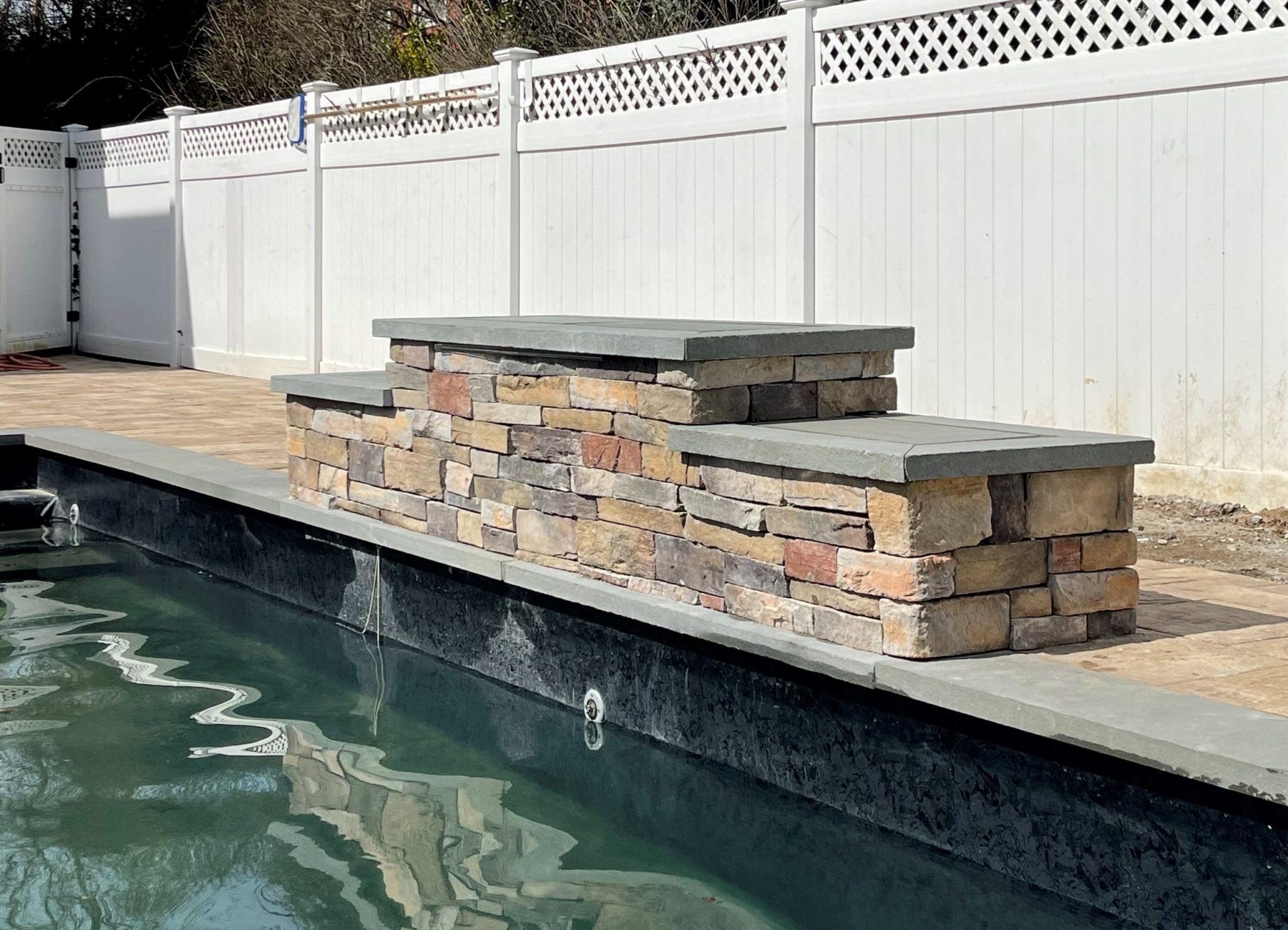 During the entire process, the homeowner had a clear vision for their pool patio ideas. They chose natural bluestone steps and a three-tier waterfall that pours into their dream pool, the results were nothing short of stunning! The inspiration to wrap the waterfall in cultured stone complemented the stone on the foundation of the house, making everything look stunning between the two separate projects. We achieved a perfect match with the Bucks County Country Ledgestone, improving the aesthetics of the pool patio.
This entire patio was completed using Cambridge 3-piece Ledgestone Design Kit XL size pavers finished in Sahara Chestnut Lite. To tie this whole patio together, we used a 6×6 Cambridge paver in a Mocha color as the border.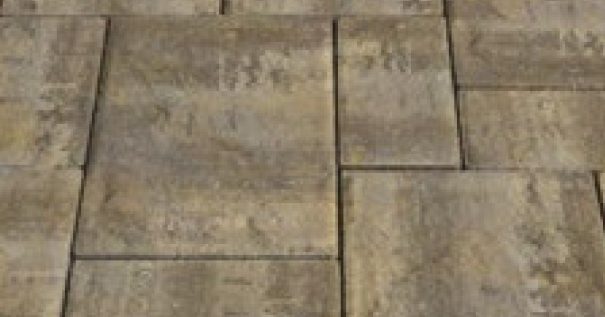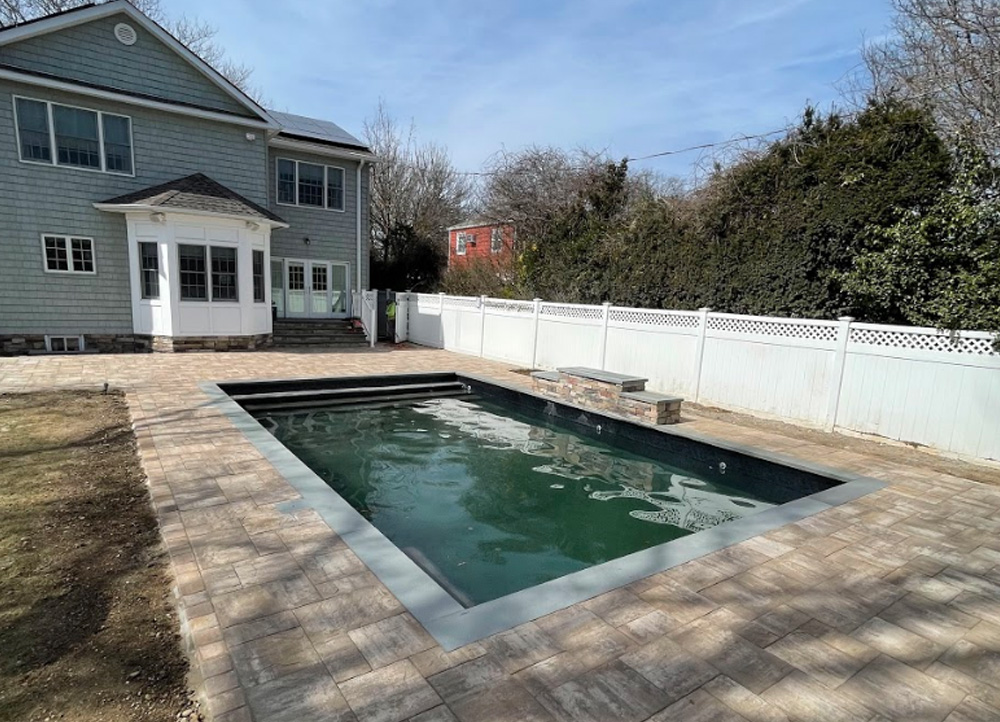 Witness the satisfaction of one of our important customers:
"Our pool patio installation by Affordable Patio in Holtsville was an absolute joy! Their team's expertise and dedication turned our backyard into a paradise. We're thrilled with the outcome and can't wait to enjoy it with family and friends. Highly recommend Affordable Patio for top-notch work and a fantastic experience!" *Clients review!
To learn more, you can 
visit this link
. Experience the best in pool patio design and construction with
AffordablePatio.com
.
We find ourselves in the town of Holbrook often, as our office is located in Bohemia, just beyond Vets Highway. As a local company, we like to support other local companies in the Holbrook area, so we buy a great deal of our supplies from GTS Building Supply on Vets Highway and All Country Blocks on Lincoln Avenue. With every project we complete in this town, our appreciation and admiration for it grows. Holbrook will always hold a special place in our hearts!
Examples of what similar projects could cost
Our Simple 5 Step process
Get our Free guide about Paver patios, learn all you need to know in order to have your patio build. You can save time by reading our guide. We compile all the best and most up to date information about patios, download our eBook now. Just complete some of your basic information and get your free copy:
Affordable Patio serves the following villages Suffolk County, NY:
What AP Customers Are Saying
I have used Affordable Patio three times now for three different projects and I have always been happy with their service. Dealing with James and Kristina in the office is a pleasure. The entire project is thoroughly planned out and executed appropriately. I highly recommend this company. Thanks again AP for all your help!!!
Elizabeth Donohue
2023-04-07
You guys killed it. Thanks for rocking out the back patio. We're super excited to make new memories. Thanks for the great work guys
We had a wonderful experience from start to finish. James, Kristina, and the entire crew were great to work with!! We will have them back for more projects for sure!!
Working with James Gio Kristina and evo plus his team was an awesome experience. As somone in the industry I was truly impressed and couldn't believe the standard held by precision. Would recommend 10/10!! Super knowledgeable and worth every penny! felt better than family!!
I just had my patio done and from start to finish everything went amazing. From the moment they came for an estimate, to the moment they finished, everything went smoothly. All the workers were professional and worked so fast. There were no hidden costs, no surprises. Kristina in the office keeps you informed step by step from the point they send the estimate, selecting the brick, start of the project and even throughout the project. She even sent photos of different color combinations as I was indecisive at first. Can't wait to enjoy my backyard with family and friends this summer. Will definitely be using them for future projects to come. Home projects can be stressful and feel like a chore between companies not showing up for estimates, hidden costs, poor workmanship, etc. That was not the case with James, Kristina and the rest of the crew. They made it feel like a breeze!
James Donnelly
2023-03-18
Affordable Patio is an amazing company! From the estimate, to the install and the clean up. We went online and more or less got a price on our own. We then scheduled an appointment with James, Kristina answered the phone and all of our questions, she's was polite, knowledgeable and courteous! James came to give us an estimate and was able to figure out a way for us to get a fire pit! We always dreamed of a fire pit! When the install was getting done, the crew was courteous and walked us threw every step and cleaned up like we never had any work done! 5 ⭐️ I love them and recommend them to everyone!
From the initial email that I sent for a quote, to the meeting with James, to the final finished project, I have nothing but excellent things to say about this company. It was an absolute pleasure working with Kristina throughout this whole process. She was very attentive and very quick with responses and questions that I had. Joe and his crew did beautiful work on my patio. I highly recommend this company to anyone looking for a backyard transformation.
Recently had a patio done 18x 35 in size . The crew that came was one of the best that I have seen . They all worked as a team . The lead guy joe was great , explained every detail that was going to happen . They worked together and completed the job in a day and a half . The bob cat did rip up some grass but they brought in top soil and leveled. the lawn to repair the damage . Clean up was just as good . The garbage was placed in bags , removed the dirt from the driveway . Filled the track marks with top soil . Did a great job and would use them again . The entire process was painless .
James and Kristina were very helpful and got the job done very quickly. My patio came out great! I would highly recommend them.
Barbara Schwartz
2023-03-06
James, Kristina and their work crew did an amazing job. They not only did our backyard they also did stone work on the front of our home and of course our front porch. The crew always cleaned up after their work day.. We couldn't be happier with how our home turned out!
Don't Know Where To Start?
Are you ready to enjoy your family's best Memories?
Embark on a journey of transforming your Suffolk County property into a luxurious haven with AffordablePatio.com:
Consultation & Conceptualization.
 Share your Suffolk County dreams, and we'll infuse our expertise to create a tailored paver patio concept.
Customized Estimate.
 Experience efficiency as we deliver a comprehensive and customized estimate within 24 hours, perfectly suited to your Suffolk County project.
Material Exploration.
 Visit Astro Masonry Supply to explore a wide array of paver options that harmonize with the charm of Suffolk County, guided by our knowledgeable team.
Preparation & Precision.
 As installation day nears, we gather crucial information to ensure a smooth progression for your Suffolk County masterpiece.
Masterful Implementation.
 Our skilled team arrives on schedule, skillfully crafting your Suffolk County vision into reality with meticulous attention to detail.
Final Flourish & Delight.
 Inspect your finished Suffolk County project, confirming it aligns seamlessly with your vision, and express your satisfaction through a glowing Google review.
Frequently Asked Questions (FAQ)
What sets AffordablePatio.com apart in Suffolk County?
Our unwavering dedication to excellence, tailored consultations, and transparent communication make us Suffolk County's premier choice.
How soon can I relish my new Suffolk County paver patio?
Once our skilled team completes the installation, you can promptly savor the transformed outdoor beauty of your Suffolk County property.
Can I infuse my personal style into my Suffolk County paver patio?
Certainly! Collaborate with us to weave your unique preferences into the design, making your Suffolk County sanctuary truly exceptional.
Which paver materials are suitable for my Suffolk County project?
Choose from a diverse range of top-tier materials. Our experts will guide you in selecting options that harmonize with the essence of Suffolk County.
How do I initiate a consultation for my Suffolk County paver patio?
Connect with us at 631-275-3142 or visit AffordablePatio.com to embark on your personalized consultation and commence your Suffolk County journey.
Elevate your Suffolk County lifestyle by partnering with AffordablePatio.com to embark on your paver patio venture.