Best Patio Installation Company in East Patchogue
Patio construction in East Patchogue. We have installed over 200 patios in the area!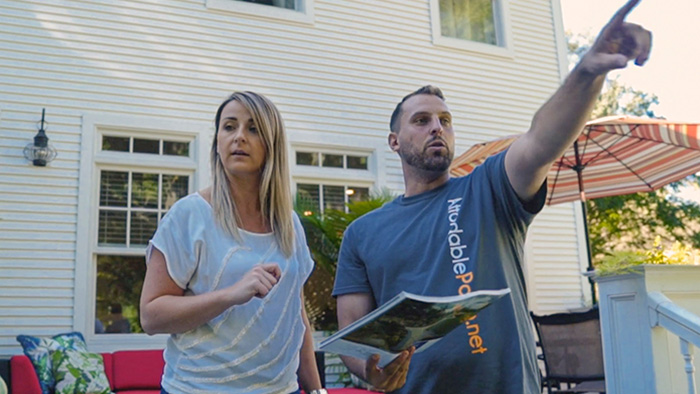 Welcome to AffordablePatio.com in East Patchogue, NY!
Welcome to AffordablePatio.com, your trusted partner for creating exceptional paver patios in East Patchogue! As a local business, we understand the essence of community and the pride that comes with being a part of it. We're not just a paver contractor – we're your neighbors, friends, and fellow enthusiasts of East Patchogue's charm.
Our dedication goes beyond the surface. We provide paver patios that are both affordable and of the highest quality. With a transparent approach, we ensure you're part of every step, just like our close-knit community. So, if you're looking for a paver installation that enhances your East Patchogue lifestyle, think AffordablePatio.com – your local choice for paver patios done right.
Call Us or Build Price Online.
Select Front Yard, Backyard or Pool Patio
Here is a project that our team completed of Patio construction in East Patchogue
Elevating Your Outdoor Haven: The Perfect Patio
Discover the essence of outdoor charm as we unveil the dimensions of your dream backyard. In East Patchogue a project came to life with a spacious patio, spanning 28 by 18 feet, ready to embrace gatherings and relaxation. Together with it, a majestic tree wall standing tall at 30 feet, a natural wonder at 18 inches high. Completing this picturesque scene with an elegant sitting wall spanning 18 feet with two 2-foot-tall pillars, and a delightful 6-foot-wide by 8-foot-long front walkway. Affordable Patio is here to bring your backyard aspirations to life.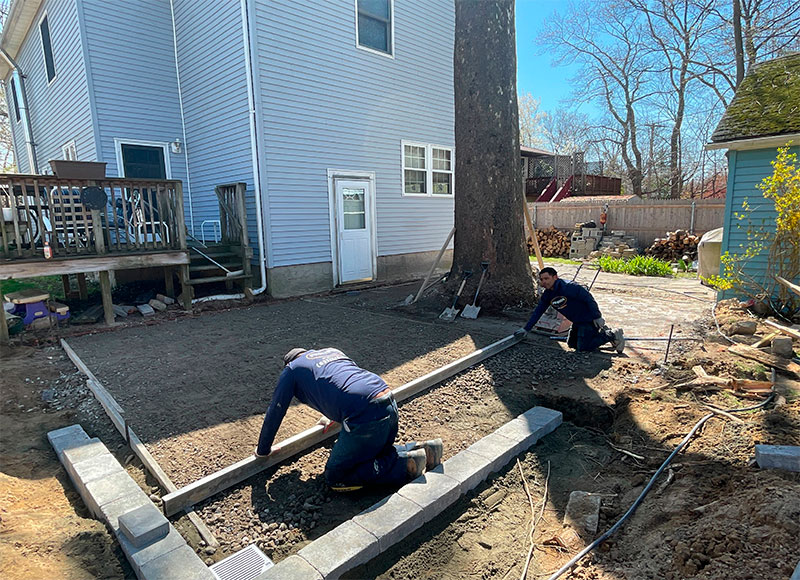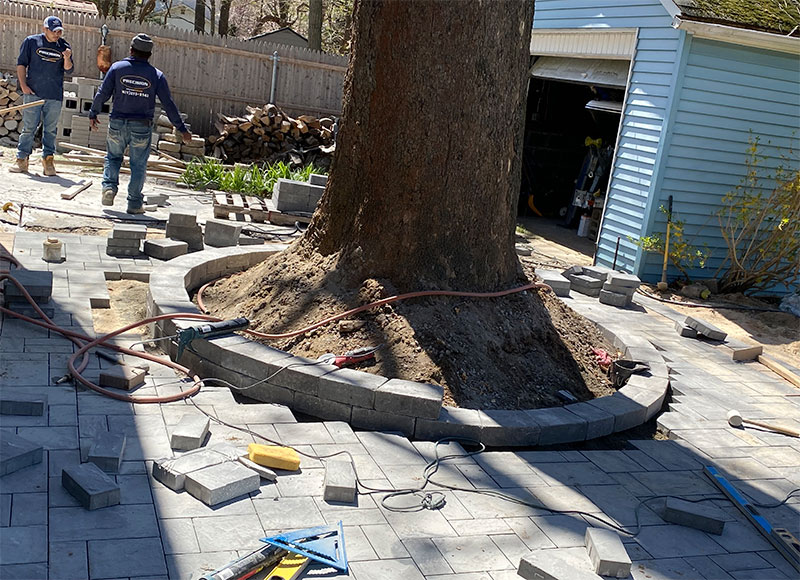 Revealing Paver Elegance:
The secret to creating an outdoor space that combines beauty and strength lies in the choice of materials. Enter the Ledgestone Onyx Natural pavers, a tribute to nature's allure and built to withstand time's tests. To frame this outdoor masterpiece, a 6×6 Sandstone Double Border adds a touch of class, complementing the entire design. From the patio to the tree wall, sitting wall, and front walkway, the Ledgestone Onyx Natural pavers infuse each element with timeless grace.
A Transformed Backyard Retreat
Watch as your backyard changes into a captivating escape. The patio, a sprawling stage for relaxation, beckons you to unwind. Guiding your steps, the front walkway presents Ledgestone Onyx Natural pavers and the elegant Sandstone Double Border. The towering tree wall adds nature's grandeur to the scene, offering shade and a stunning visual and the sitting wall provides a cozy corner, featuring the charming sandstone blend material. With Affordable Patio's skillful touch, your backyard becomes a harmonious sanctuary where function and beauty unite.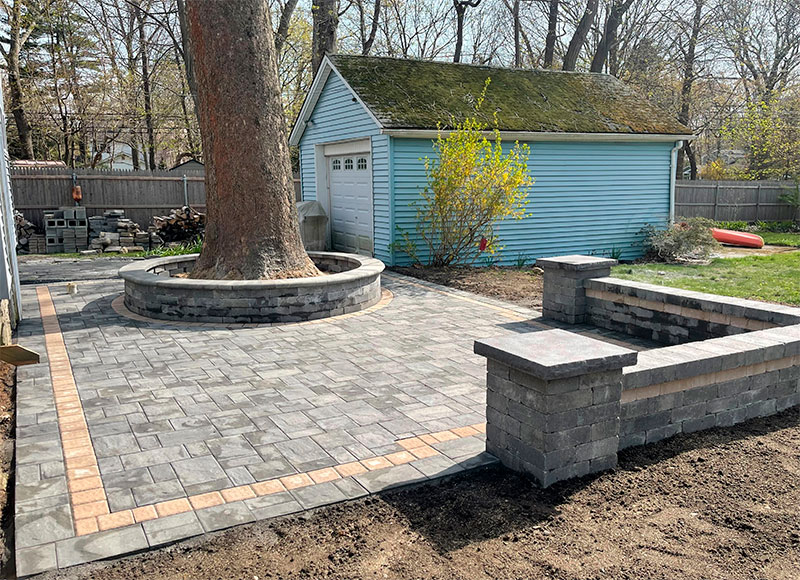 Examples of what similar projects could cost
Our Simple 5 Step process
Get our Free guide about Paver patios, learn all you need to know in order to have your patio build. You can save time by reading our guide. We compile all the best and most up to date information about patios, download our eBook now. Just complete some of your basic information and get your free copy:
Affordable Patio serves the following villages Suffolk County, NY:
What AP Customers Are Saying
I have used Affordable Patio three times now for three different projects and I have always been happy with their service. Dealing with James and Kristina in the office is a pleasure. The entire project is thoroughly planned out and executed appropriately. I highly recommend this company. Thanks again AP for all your help!!!
Elizabeth Donohue
2023-04-07
You guys killed it. Thanks for rocking out the back patio. We're super excited to make new memories. Thanks for the great work guys
We had a wonderful experience from start to finish. James, Kristina, and the entire crew were great to work with!! We will have them back for more projects for sure!!
Working with James Gio Kristina and evo plus his team was an awesome experience. As somone in the industry I was truly impressed and couldn't believe the standard held by precision. Would recommend 10/10!! Super knowledgeable and worth every penny! felt better than family!!
I just had my patio done and from start to finish everything went amazing. From the moment they came for an estimate, to the moment they finished, everything went smoothly. All the workers were professional and worked so fast. There were no hidden costs, no surprises. Kristina in the office keeps you informed step by step from the point they send the estimate, selecting the brick, start of the project and even throughout the project. She even sent photos of different color combinations as I was indecisive at first. Can't wait to enjoy my backyard with family and friends this summer. Will definitely be using them for future projects to come. Home projects can be stressful and feel like a chore between companies not showing up for estimates, hidden costs, poor workmanship, etc. That was not the case with James, Kristina and the rest of the crew. They made it feel like a breeze!
James Donnelly
2023-03-18
Affordable Patio is an amazing company! From the estimate, to the install and the clean up. We went online and more or less got a price on our own. We then scheduled an appointment with James, Kristina answered the phone and all of our questions, she's was polite, knowledgeable and courteous! James came to give us an estimate and was able to figure out a way for us to get a fire pit! We always dreamed of a fire pit! When the install was getting done, the crew was courteous and walked us threw every step and cleaned up like we never had any work done! 5 ⭐️ I love them and recommend them to everyone!
From the initial email that I sent for a quote, to the meeting with James, to the final finished project, I have nothing but excellent things to say about this company. It was an absolute pleasure working with Kristina throughout this whole process. She was very attentive and very quick with responses and questions that I had. Joe and his crew did beautiful work on my patio. I highly recommend this company to anyone looking for a backyard transformation.
Recently had a patio done 18x 35 in size . The crew that came was one of the best that I have seen . They all worked as a team . The lead guy joe was great , explained every detail that was going to happen . They worked together and completed the job in a day and a half . The bob cat did rip up some grass but they brought in top soil and leveled. the lawn to repair the damage . Clean up was just as good . The garbage was placed in bags , removed the dirt from the driveway . Filled the track marks with top soil . Did a great job and would use them again . The entire process was painless .
James and Kristina were very helpful and got the job done very quickly. My patio came out great! I would highly recommend them.
Barbara Schwartz
2023-03-06
James, Kristina and their work crew did an amazing job. They not only did our backyard they also did stone work on the front of our home and of course our front porch. The crew always cleaned up after their work day.. We couldn't be happier with how our home turned out!
Don't Know Where To Start?
Are you ready to enjoy your family's best Memories?
Enhance Your Outdoor Space in East Patchogue
Relax in Your Own Oasis: 
Picture having your own peaceful retreat right in East Patchogue. A well-crafted patio lets you unwind while enjoying your backyard.
Designed Just for You: 
Your East Patchogue patio is like a custom-made piece of art. We offer various paver choices and layouts to turn your outdoor area into something special.
Blend with Nature:
Let your patio blend seamlessly with the natural beauty of East Patchogue. Our designs match your surroundings, making your indoor and outdoor spaces flow together.
Enjoy Every Season: 
From sunny summers to cozy winters, your East Patchogue patio becomes a place to cherish year-round, no matter the weather.
Cook and Dine Outdoors: 
East Patchogue residents love outdoor cooking. Your patio is perfect for family cookouts, small dinners, and more.
Boost Your Home's Look: 
A well-planned patio adds appeal to your East Patchogue home, becoming a focal point of your property.
Gather with Friends: 
Turn your East Patchogue patio into a social hub. Host gatherings, relax with family, and make lasting memories.
Attention to Detail: 
Our skilled team pays close attention to every detail, creating a stunning East Patchogue patio that you'll love.
Tailored to You:
We work closely with you to design a patio that suits your style and needs. Your East Patchogue patio reflects you.
Simple Process: 
Our East Patchogue patio installation process is straightforward. From planning to final touches, we guide you at every step.
East Patchogue Patio FAQs
What materials do you use for patios?
We use high-quality materials like Cambridge Pavingstones® with ArmorTec® for lasting East Patchogue patios.
Can I add water features to my patio?
Yes, we can include fountains or ponds to add a calming touch to your East Patchogue patio.
How do you handle patio drainage?
We ensure proper grading during East Patchogue patio installation to manage water effectively.
Is patio maintenance needed?
While patios are durable, some care is needed. We provide tips to keep your East Patchogue patio in great shape.
Can you help with landscape design?
We collaborate with East Patchogue landscapers or suggest professionals to create a landscape that matches your patio.
How long does a patio project take?
Timelines vary, but we communicate clearly and aim to finish your East Patchogue patio promptly.
Can you add patio lighting?
Yes, lighting options are available for your East Patchogue patio, enhancing both safety and ambiance.
Is lighting available for the patio?
Lighting adds ambiance and extends patio usability into the evening. We offer various lighting options to enhance your Selden patio's beauty and functionality.
How do I start my East Patchogue patio project?
To begin, contact us at 631-275-3142 or visit affordablepatio.com for a consultation and start your East Patchogue patio transformation.
Crafting your East Patchogue patio goes beyond construction; it's about creating a space that's uniquely yours, blends with nature, and adds a new dimension to your outdoor living.
Paver Patio Contruction, Patio Construction, Patio Contractors,Paver patio contractors
Paver Patio Contruction, Patio Construction, Patio Contractors,Paver patio contractors
Paver Patio Contruction, Patio Construction, Patio Contractors,Paver patio contractors
Paver Patio Contruction, Patio Construction, Patio Contractors,Paver patio contractors