Best Patio Installation Company in Ronkonkoma
Patio construction in Ronkonkoma. We have installed over 200 patios in the area!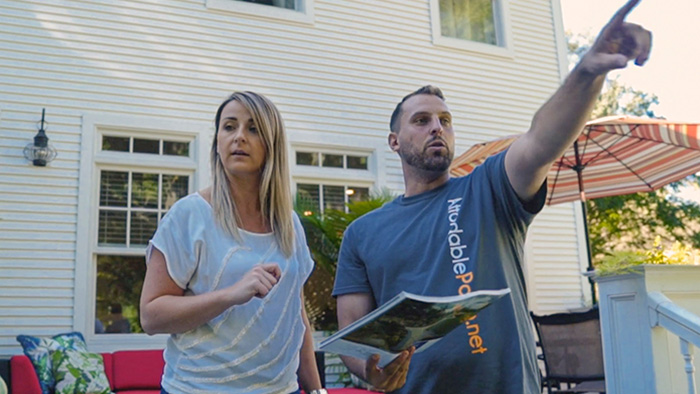 Full Service Masonry Company and Patio construction in Ronkonkoma
AffordablePatio.com, the number one patio construction company in Ronkonkoma and Lake Ronkonkoma, specializes in expert paver patio installation and comprehensive patio construction in Ronkonkoma. With over 15 years of experience, our team; James, Kristina, and Gio take great pride in serving the community. You can often find us engaging with our customers at local restaurants and events such as the street fair on Hawkins Ave. We gladly contribute to the community, supporting both the local fire departments, Lake Ronkonkoma and Lakeland Fire Department. We source our materials from the trustworthy local mason supply yard called Lake Mason Supply on Ronkonkoma Ave.
Call Us or Build Price Online.
Select Front Yard, Backyard or Pool Patio
Here is a project that our team completed of Patio construction in Ronkonkoma
Expert Paver Patio Installation and Contractors for Timeless Backyard Appeal.
In the homeowner's backyard, the stoop stands as an attractive two-sided piece, completed with Olde English wall stone and coal Ledgestone caps. We also used the same XL Smooth Bluestone Blend pavers for the landing, adding a touch to the design. Our method is focused on simplicity, ensuring the patio's timeless appeal. When it comes to Paver Patio Installation trust is everything, we can bring appeal and expertise to your outdoor living spaces.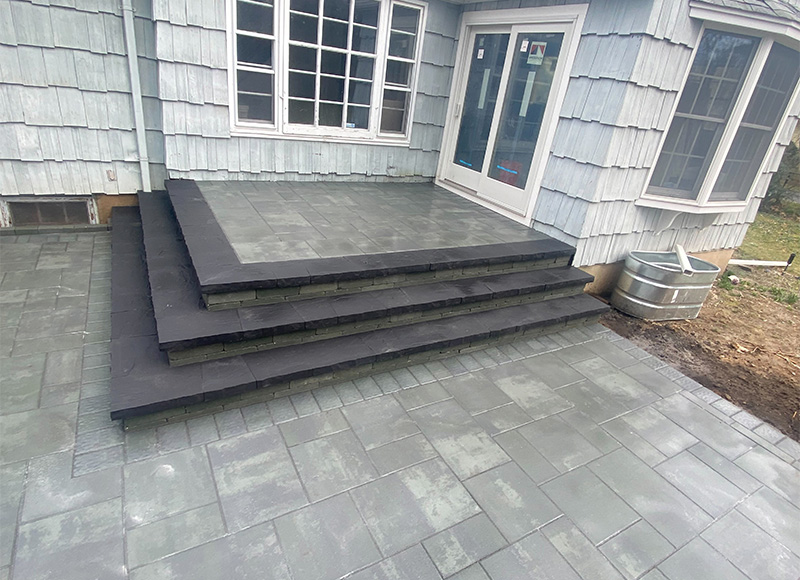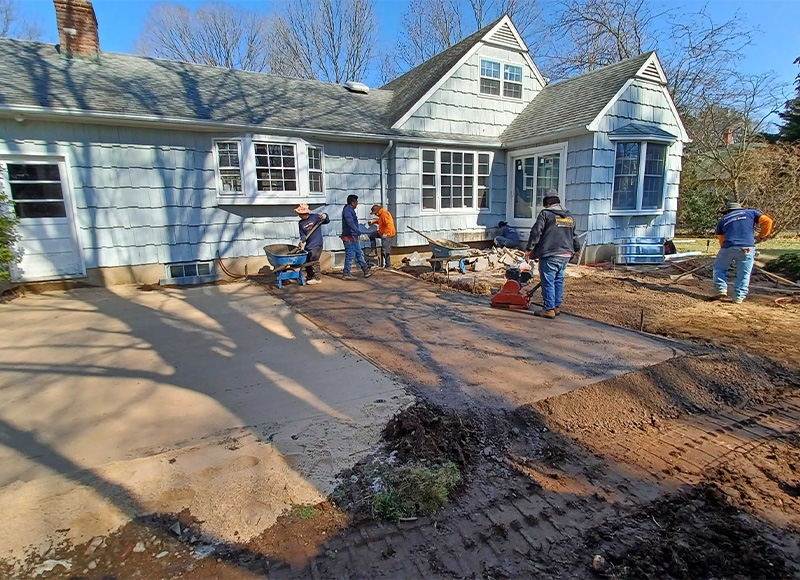 Carefully Crafted Foundations and Recycled Concrete Aggregate.
Beneath our patio surface is a carefully designed foundation. Using an RCA subbase, which stands for recycled concrete aggregate. We've been working with the most commonly used base here on Long Island. Above the RCA, a fine sand bedding layer was applied, allowing the pavers to snugly fit together, giving a flawless outcome and seamless patio surface. When it comes to Paver Patio Installation, our attention to detail guarantees a sturdy and visually stunning outdoor living space.
Premier Patio Construction in Ronkonkoma by Expert Paver Patio Contractors.
In Ronkonkoma, NY, our AffordablePatio.com project is truly special! Turning the homeowner's vision into reality, captivating color palette. We crafted an enchanting patio with Cambridge XL 3-piece design kit, Ledgestone SMOOTH in Bluestone Blend color, and a 6×9 border in the same shade.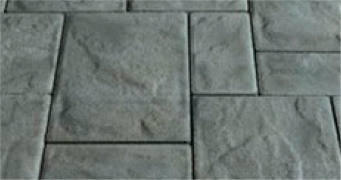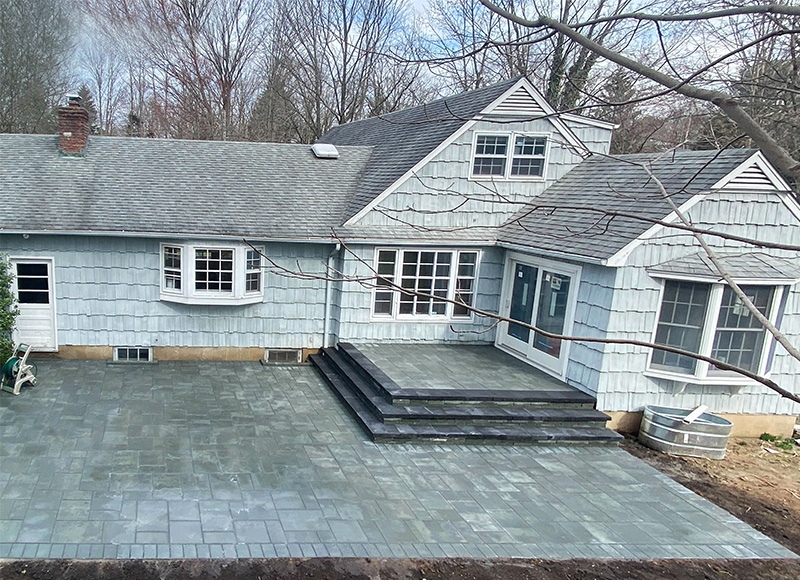 Seamless Patio Construction in Ronkonkoma | Expert Paver Patio Installation.
Witness the beauty of our Patio Construction in Ronkonkoma, extending 20 ft from the house and stretching an impressive 36 ft in length. Our skilled crew completed this project effortlessly in just two and a half days, thanks to the accessibility provided by our bobcat machinery in the yard. Ensuring the utmost care, we mended any lawn damage caused during the process by adding
fresh topsoil.
Experience the elegance of our Ronkonkoma Patio Construction, stretching 36 feet in length and extending 20 feet from the house. Completed in just two and a half days with our bobcat machinery, we ensured a pristine lawn by adding fresh topsoil.
Visit our social media for reviews of our exceptional work within your community. Join us for Expert Paver Patio Installation and embrace excellence in your upcoming projects.
Examples of what similar projects could cost
Our Simple 5 Step process
Get our Free guide about Paver patios, learn all you need to know in order to have your patio build. You can save time by reading our guide. We compile all the best and most up to date information about patios, download our eBook now. Just complete some of your basic information and get your free copy:
Affordable Patio serves the following villages Suffolk County, NY:
What AP Customers Are Saying
I have used Affordable Patio three times now for three different projects and I have always been happy with their service. Dealing with James and Kristina in the office is a pleasure. The entire project is thoroughly planned out and executed appropriately. I highly recommend this company. Thanks again AP for all your help!!!
Elizabeth Donohue
2023-04-07
You guys killed it. Thanks for rocking out the back patio. We're super excited to make new memories. Thanks for the great work guys
We had a wonderful experience from start to finish. James, Kristina, and the entire crew were great to work with!! We will have them back for more projects for sure!!
Working with James Gio Kristina and evo plus his team was an awesome experience. As somone in the industry I was truly impressed and couldn't believe the standard held by precision. Would recommend 10/10!! Super knowledgeable and worth every penny! felt better than family!!
I just had my patio done and from start to finish everything went amazing. From the moment they came for an estimate, to the moment they finished, everything went smoothly. All the workers were professional and worked so fast. There were no hidden costs, no surprises. Kristina in the office keeps you informed step by step from the point they send the estimate, selecting the brick, start of the project and even throughout the project. She even sent photos of different color combinations as I was indecisive at first. Can't wait to enjoy my backyard with family and friends this summer. Will definitely be using them for future projects to come. Home projects can be stressful and feel like a chore between companies not showing up for estimates, hidden costs, poor workmanship, etc. That was not the case with James, Kristina and the rest of the crew. They made it feel like a breeze!
James Donnelly
2023-03-18
Affordable Patio is an amazing company! From the estimate, to the install and the clean up. We went online and more or less got a price on our own. We then scheduled an appointment with James, Kristina answered the phone and all of our questions, she's was polite, knowledgeable and courteous! James came to give us an estimate and was able to figure out a way for us to get a fire pit! We always dreamed of a fire pit! When the install was getting done, the crew was courteous and walked us threw every step and cleaned up like we never had any work done! 5 ⭐️ I love them and recommend them to everyone!
From the initial email that I sent for a quote, to the meeting with James, to the final finished project, I have nothing but excellent things to say about this company. It was an absolute pleasure working with Kristina throughout this whole process. She was very attentive and very quick with responses and questions that I had. Joe and his crew did beautiful work on my patio. I highly recommend this company to anyone looking for a backyard transformation.
Recently had a patio done 18x 35 in size . The crew that came was one of the best that I have seen . They all worked as a team . The lead guy joe was great , explained every detail that was going to happen . They worked together and completed the job in a day and a half . The bob cat did rip up some grass but they brought in top soil and leveled. the lawn to repair the damage . Clean up was just as good . The garbage was placed in bags , removed the dirt from the driveway . Filled the track marks with top soil . Did a great job and would use them again . The entire process was painless .
James and Kristina were very helpful and got the job done very quickly. My patio came out great! I would highly recommend them.
Barbara Schwartz
2023-03-06
James, Kristina and their work crew did an amazing job. They not only did our backyard they also did stone work on the front of our home and of course our front porch. The crew always cleaned up after their work day.. We couldn't be happier with how our home turned out!
Don't Know Where To Start?
Are you ready to enjoy your family's best Memories?
A Local Presence, A Strong Commitment.
We are a full-service masonry company dedicated to improving Ronkonkoma and Lake Ronkonkoma. Above all, we are committed to delivering exceptional service and results to our clients. Moreover, our office is located right in the heart of the community, providing easy access and ensuring convenience for all. We value long-term relationships with our clients, and we go the extra mile to understand their unique needs and preferences. It also brings us immense joy to see familiar faces at local events, strengthening our bond with the community. After all, being a part of the events and festivities in Ronkonkoma and Lake Ronkonkoma is a testament to our strong ties with the area.
Giving Back to Our Community.
We support Ronkonkoma and Lake Ronkonkoma through various initiatives. Our commitment to the community is evident in the services we provide to the local fire departments, ensuring they have the best facilities for their important work. Additionally, we regularly contribute to the local economy by sourcing materials from a trusted local supplier, thereby supporting businesses in the area. By doing so, we ensure top quality for our projects while also strengthening the community we proudly serve.
Experience and Skill.
Our company sets the standard for exceptional outdoor living spaces. Most importantly, our skilled workers combine experience and passion to deliver remarkable results. If you want a cozy patio for your backyard, we'll work closely with you to bring your vision to life.
Customized Patio Installations: We specialize in creating custom-designed patios that blend with your perfect landscape. Our team of experts collaborate with you, offering valuable insights and suggestions. Not only do we select the finest materials, but we also personalize the design to reflect your unique style.
Perfectly Made Walkways: For better accessibility and functionality, improve your outdoor space with beautifully made walkways. Whether you desire a charming garden path or a grand entrance, we offer a variety of materials to perfectly match your home's appearance.
Fascinating Fire Features and More: Experience cozy evenings with our expertly designed fire pits and fireplaces. In addition, we create fire features that add warmth and become the captivating focal point of your outdoor space. Moreover, we offer a range of additional features, including outdoor kitchens, seating walls, and water features to boost your oasis.
Committed to Your Satisfaction.
Customer satisfaction is our priority. We ensure clear communication, guiding you through the project with updates and prompt responses. Our attention to detail guarantees a carefully made outdoor living space.
Experience the AffordablePatio.com Difference.
Choose AffordablePatio.com for excellent skill, knowledge, and a team dedicated to exceeding your expectations. Contact us today to schedule a consultation and let's create an exceptional outdoor living space together. Discover why AffordablePatio.com is the trusted name in Ronkonkoma and Lake Ronkonkoma.
Frequently Asked Questions (FAQ).
How long has AffordablePatio.com been serving Ronkonkoma, NY and its surrounding areas?
We have proudly served Ronkonkoma, NY, and its surrounding areas for over 15 years. Our strong presence in the community ensures exceptional services and customer satisfaction.
What types of masonry services does AffordablePatio.com provide?
We offer a thorough range of masonry services:
Patio installations: Create a stunning outdoor living space with our perfectly designed and installed patios.
Walkways and driveways: Improve the functionality and appearance of your property.
Retaining walls: Construct visually appealing retaining walls to support your landscape.
Outdoor fire pits and fireplaces: Enjoy cozy evenings with our custom-built fire features.
Outdoor kitchens and BBQs: Upgrade your outdoor cooking and entertainment area.
What sets AffordablePatio.com apart from other paver contractors?
Our commitment to high-quality work and outstanding customer service sets us apart:
Expertise: With over 15 years of experience, our skilled workers handle projects of any size.
Attention to detail: We carefully plan and execute every aspect of the project.
Personalized approach: We collaborate closely with clients to understand their unique needs.
Quality materials: We use trusted suppliers, ensuring durability and a beautiful finish.
Customer satisfaction: We strive to exceed expectations and improve the value of your property.
How can I schedule a consultation with AffordablePatio.com?
Scheduling a consultation is easy. Call us at 1 (631) 275-3142, and our friendly team members will assist you. We look forward to discussing your needs and providing personalized solutions.
Does AffordablePatio.com provide insurance coverage for their services?
Yes, we are fully insured to protect you and your property during the construction process. Your peace of mind is our priority.
Can AffordablePatio.com provide references or examples of their past work?
Absolutely! We are proud of our portfolio and satisfied clients. We can provide references and examples of our past work, demonstrating our knowledge and skill.
Schedule a Consultation with AffordablePatio.com Contact us when you're ready to transform your outdoor living space. With over 15 years of experience, our dedicated team is ready to bring your vision to life. Call us at 1 (631) 275-3142 to schedule a consultation. We look forward to working with you.
Call (631)2753142 or visit AffordablePatio.com today to discuss your project. Our team is happy to provide you with reliable information to get your project completed.
*Special local links (add for each town)