Best Patio Installation Company in Medford
Patio Installation in Medford, Backyard patio, Patio installers near me, Backyard patio contractor, Back yard patio installer, Patio contractor. We have installed over 200 patios in the area!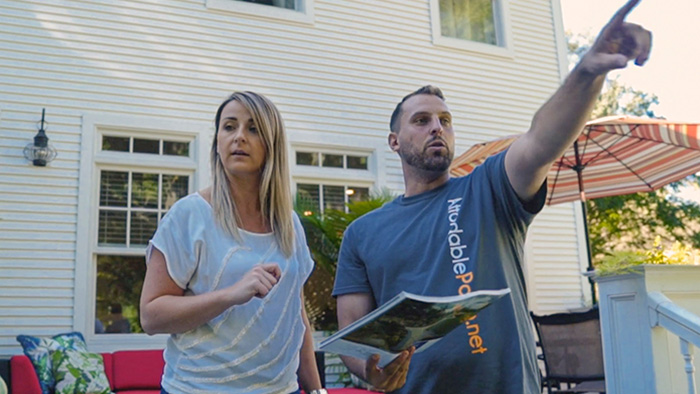 Premier Patio Installation in Medford, NY | AffordablePatio.com
Discover the art of exceptional backyard living with AffordablePatio.com in Medford. Our dedicated team brings the highest expertise in paver patio installation and construction to the vibrant community. As your local partner, we're committed to crafting outdoor spaces that seamlessly harmonize with Medford's distinctive appeal, offering you the ultimate backyard patio retreat.
From the captivating landscapes to the inviting neighborhoods, Medford's characteristic charm and natural beauty are our guiding inspiration. Our skilled team takes immense pride in constructing patios that not only elevate your outdoor lifestyle but also seamlessly integrate into the material of the Medford landscape. Whether you're in search of a peaceful sanctuary or an entertainment haven, AffordablePatio.com is guaranteed to transform your backyard patio dreams into reality, contributing to the timeless charm of Medford.
Call Us or Build Price Online.
Select Front Yard, Backyard or Pool Patio
Here is a project that our team completed of Patio installation in Medford
Immerse Yourself in Medford's Fascinating Patio and Fire Pit.
Welcome to a world of captivating outdoor beauty right here in the heart of Medford. Behold an extraordinary Patio spanning 30 x 20 feet that sets the stage for moments that will remain in your memory. This isn't just any patio; it's a perfect blend of stunning design and unparalleled functionality. But the real attraction lies in the meticulously crafted bump-out that stretches an impressive 22.6 feet, creating a space that beckons you to relax and unwind. This Medford masterpiece transcends being a mere patio; it's a canvas where your wildest outdoor fantasies come alive.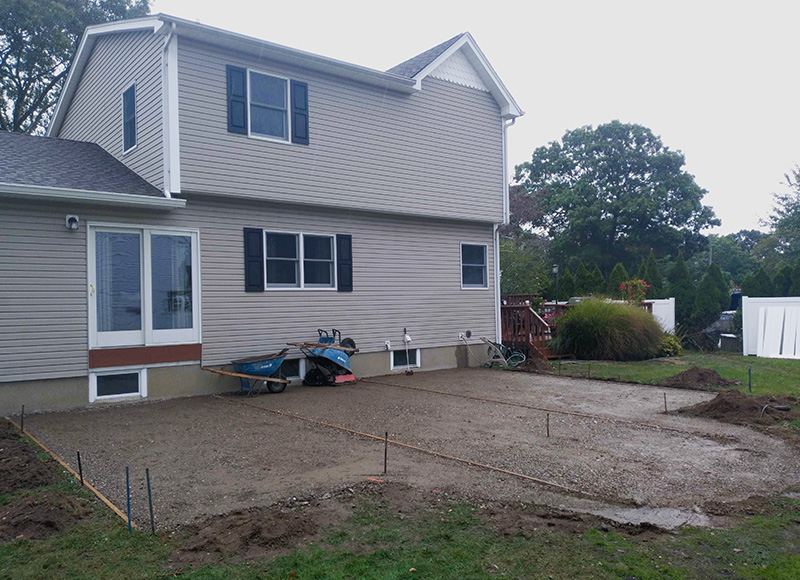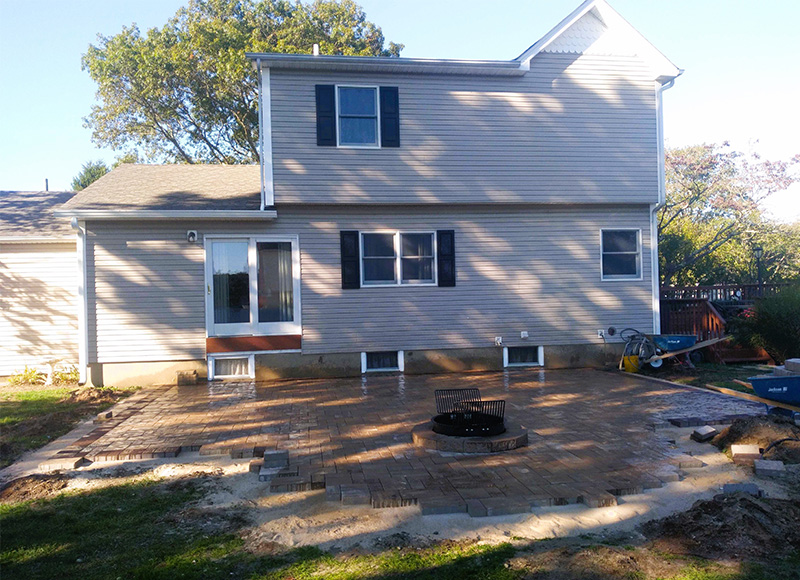 Now, let's talk about the pièce de résistance – the Fire Pit.
Picture the mesmerizing dance of flames, the cozy embrace of its warmth, and the shared stories around its crackling presence. But this isn't just any fire pit; it's a testament to artistry and comfort, meticulously designed by our skilled craftsperson. Each stone was chosen and placed with utmost precision, a true labor of love. The bullnose topping provides a seamless and inviting edge, encouraging you to gather, connect, and relax in its radiant glow. With Affordablepatio's expert touch, your fire pit transforms into a captivating centerpiece, making your outdoor space truly magical.
SAHARA CHESTNUT LITE.
The heart of every outdoor space is the choice of paver color and style. Sahara Chestnut Lite brings earthy tones and charm to your Medford retreat with a double border that elegantly frames the patio transforming your outdoor haven into a timeless expression of beauty and personal taste.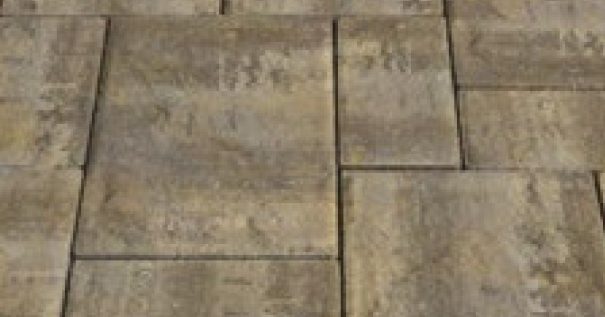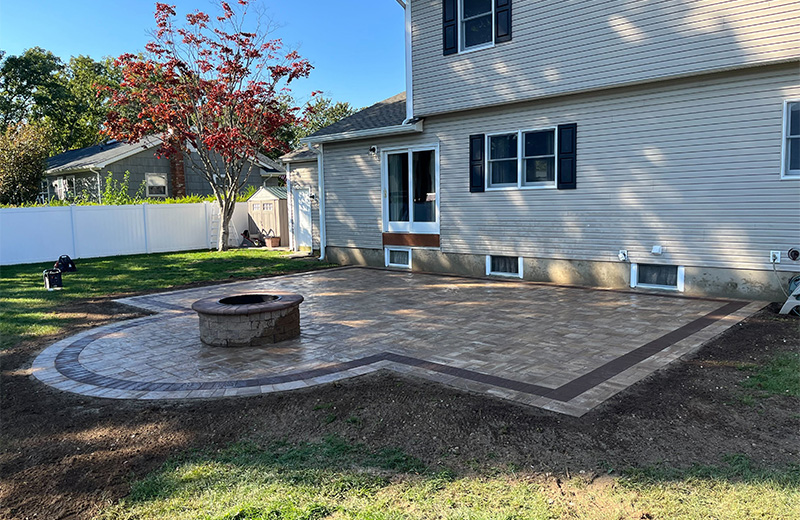 Elevate Your Outdoor Vision with AffordablePatio.com
In Medford, our skilled backyard patio installers brought a stunning patio project to life – a true masterpiece of design, quality, and expertise. The wide and inviting design of the patio, coupled with the charming Fire-Pit and the elegant Sahara Chestnut Lite pavers, embodies AffordablePatio's commitment to excellence. The crafted patio haven is where each step and gathering becomes a testament to our dedication to high quality and service. Let us transform your outdoor vision into a breathtaking and inviting reality.
Examples of what similar projects could cost
Our Simple 5 Step process
Get our Free guide about Paver patios, learn all you need to know in order to have your patio build. You can save time by reading our guide. We compile all the best and most up to date information about patios, download our eBook now. Just complete some of your basic information and get your free copy:
Affordable Patio serves the following villages Suffolk County, NY:
What AP Customers Are Saying
I have used Affordable Patio three times now for three different projects and I have always been happy with their service. Dealing with James and Kristina in the office is a pleasure. The entire project is thoroughly planned out and executed appropriately. I highly recommend this company. Thanks again AP for all your help!!!
Elizabeth Donohue
2023-04-07
You guys killed it. Thanks for rocking out the back patio. We're super excited to make new memories. Thanks for the great work guys
We had a wonderful experience from start to finish. James, Kristina, and the entire crew were great to work with!! We will have them back for more projects for sure!!
Working with James Gio Kristina and evo plus his team was an awesome experience. As somone in the industry I was truly impressed and couldn't believe the standard held by precision. Would recommend 10/10!! Super knowledgeable and worth every penny! felt better than family!!
I just had my patio done and from start to finish everything went amazing. From the moment they came for an estimate, to the moment they finished, everything went smoothly. All the workers were professional and worked so fast. There were no hidden costs, no surprises. Kristina in the office keeps you informed step by step from the point they send the estimate, selecting the brick, start of the project and even throughout the project. She even sent photos of different color combinations as I was indecisive at first. Can't wait to enjoy my backyard with family and friends this summer. Will definitely be using them for future projects to come. Home projects can be stressful and feel like a chore between companies not showing up for estimates, hidden costs, poor workmanship, etc. That was not the case with James, Kristina and the rest of the crew. They made it feel like a breeze!
James Donnelly
2023-03-18
Affordable Patio is an amazing company! From the estimate, to the install and the clean up. We went online and more or less got a price on our own. We then scheduled an appointment with James, Kristina answered the phone and all of our questions, she's was polite, knowledgeable and courteous! James came to give us an estimate and was able to figure out a way for us to get a fire pit! We always dreamed of a fire pit! When the install was getting done, the crew was courteous and walked us threw every step and cleaned up like we never had any work done! 5 ⭐️ I love them and recommend them to everyone!
From the initial email that I sent for a quote, to the meeting with James, to the final finished project, I have nothing but excellent things to say about this company. It was an absolute pleasure working with Kristina throughout this whole process. She was very attentive and very quick with responses and questions that I had. Joe and his crew did beautiful work on my patio. I highly recommend this company to anyone looking for a backyard transformation.
Recently had a patio done 18x 35 in size . The crew that came was one of the best that I have seen . They all worked as a team . The lead guy joe was great , explained every detail that was going to happen . They worked together and completed the job in a day and a half . The bob cat did rip up some grass but they brought in top soil and leveled. the lawn to repair the damage . Clean up was just as good . The garbage was placed in bags , removed the dirt from the driveway . Filled the track marks with top soil . Did a great job and would use them again . The entire process was painless .
James and Kristina were very helpful and got the job done very quickly. My patio came out great! I would highly recommend them.
Barbara Schwartz
2023-03-06
James, Kristina and their work crew did an amazing job. They not only did our backyard they also did stone work on the front of our home and of course our front porch. The crew always cleaned up after their work day.. We couldn't be happier with how our home turned out!
Don't Know Where To Start?
Are you ready to enjoy your family's best Memories?
Discover the journey to create your ideal Medford paver patio with AffordablePatio.com:
Consultation & Ideation.
 We initiate your Medford project by listening to your aspirations and merging your ideas with our expertise.
Custom Estimate.
 Within 24 hours, receive a detailed and customized estimate designed exclusively for your Medford property.
Material Exploration.
 Visit Astro Masonry Supply to explore paver options that blend seamlessly with your Medford home, guided by our seasoned specialists.
Preparation & Planning.
 As installation day approaches, we gather essential information to ensure a seamless process for your Medford project.
Expert Execution.
 Our adept team arrives punctually, transforming your Medford vision into reality with meticulous craftsmanship.
Final Flourish & Satisfaction.
 Inspect your completed Medford project, ensuring every detail aligns with your vision, and express your happiness through a 5-star Google review.
Frequently Asked Questions (FAQs)
What makes AffordablePatio.com the go-to choice in Medford?
Our commitment to excellence, personalized consultations, and transparent communication make us stand out in Medford.
How soon can I relish my new Medford paver patio?
Upon completion, you can promptly begin enjoying your upgraded outdoor haven in Medford.
Can I incorporate my unique style into my Medford paver patio?
Absolutely! We're excited to collaborate with you, infusing your distinctive preferences into your Medford oasis.
What paver materials are available for my Medford project?
Select from a diverse range of top-tier materials. Our experts will guide you in making choices that harmonize with your Medford lifestyle.
How can I schedule a consultation for my Blue Point paver patio?
Reach us at (631)275-3142 or visit Affordablepatio.com to arrange a personalized consultation and embark on your Blue Point journey.
We hope these frequently asked questions provide you with valuable information about our patio installation services in Hauppauge. Should you have any further inquiries or wish to schedule a consultation, please don't hesitate to contact us. We look forward to transforming your outdoor space into a stunning and inviting retreat!
Elevate your Medford outdoor experience by commencing your paver patio endeavor with  Affordablepatio.com 
Patio contractor,Back yard patio installer,Backyard patio contractor,Patio installers near me
Patio contractor,Back yard patio installer,Backyard patio contractor,Patio installers near me
Patio contractor,Back yard patio installer,Backyard patio contractor,Patio installers near me
Patio contractor,Back yard patio installer,Backyard patio contractor,Patio installers near me
Patio contractor,Back yard patio installer,Backyard patio contractor,Patio installers near me
Patio contractor,Back yard patio installer,Backyard patio contractor,Patio installers near me
Patio contractor,Back yard patio installer,Backyard patio contractor,Patio installers near me
Patio contractor,Back yard patio installer,Backyard patio contractor,Patio installers near me
Patio contractor,Back yard patio installer,Backyard patio contractor,Patio installers near me
Patio contractor,Back yard patio installer,Backyard patio contractor,Patio installers near me
Patio contractor,Back yard patio installer,Backyard patio contractor,Patio installers near me
Patio contractor,Back yard patio installer,Backyard patio contractor,Patio installers near me
Patio contractor,Back yard patio installer,Backyard patio contractor,Patio installers near me
Patio contractor,Back yard patio installer,Backyard patio contractor,Patio installers near me
Patio contractor,Back yard patio installer,Backyard patio contractor,Patio installers near me
Patio contractor,Back yard patio installer,Backyard patio contractor,Patio installers near me