Best Patio Installation Company in Holtsville
Patio ideas for Holtsville, pool patio, front yard walkways ideas.  We have installed over 200 patios in the area!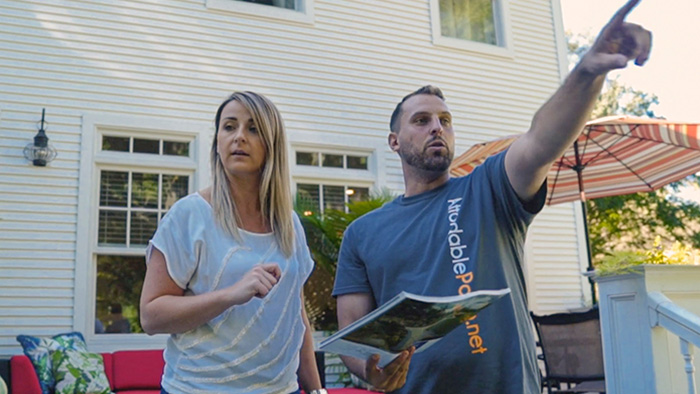 Your Trusted Holtsville Masonry Experts: Patio Ideas in Holtsville.
Welcome to Affordable Patio, Holtsville's premier patio installation company, dedicated to transforming outdoor spaces into stunning havens of comfort and beauty. With a strong commitment to excellence, we take pride in offering a wide range of high quality masonry services specially made to meet your unique needs. As lifelong service providers of the Holtsville community, we understand the importance of creating outdoor spaces that reflect your style and improve your property's value. Explore our exceptional patio ideas in Holtsville and turn your outdoor dreams into reality with Affordable Patio.
Call Us or Build Price Online.
Select Front Yard, Backyard or Pool Patio
Here is a project that our team completed of Patio construction in Holtsville
Welcome to Holtsville: Front Yard Walkways Ideas.
We started by removing the old concrete and gravel, clearing the way for a fresh start. With unwavering dedication, we constructed a stunning new paver patio, measuring an impressive 51×18 feet. To add a touch of elegance and definition, a double border was crafted around the patio's perimeter. Additionally, we crafted a new 16×4 paver walkway.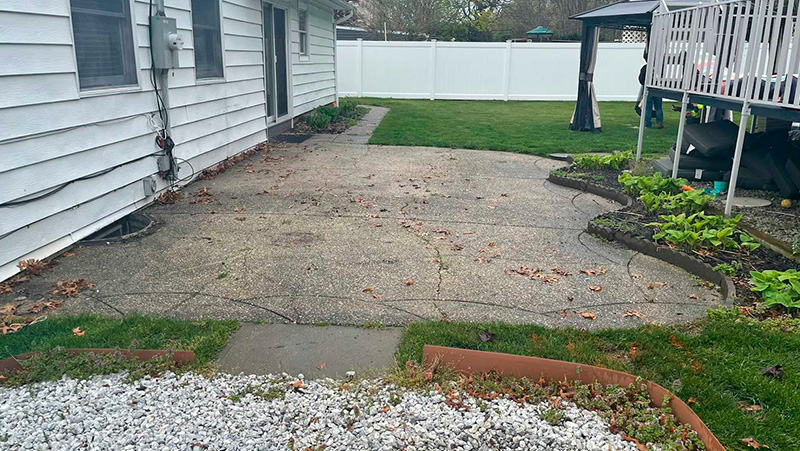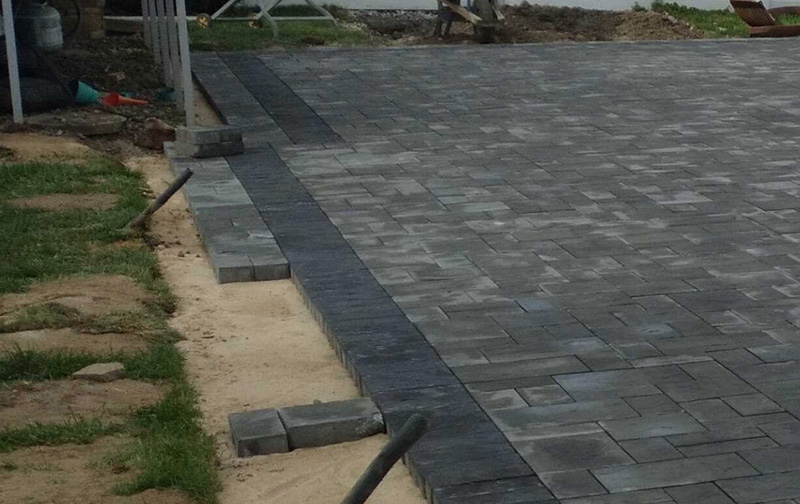 Smart Design for Front Yard Ideas.
Materials played a role in bringing this vision to life. They opted for Cambridge pavers with ArmorTech, ensuring both durability and charm for years to come. The 3pcs Ledgestone Onyx natural and coal 4.5×9 border served as the perfect finishing touch, enhancing the appeal of the entire outdoor space.
Quick and Long-lasting Front Yard Walkways.
This patio was not just about construction; it was about creating a place where the Holtsville residents could unwind, gather, and create cherished memories. Our team's commitment to quality, attention to detail, and use of premium materials ensured that every step of the journey was a testament to our dedication to excellence in front yard ideas.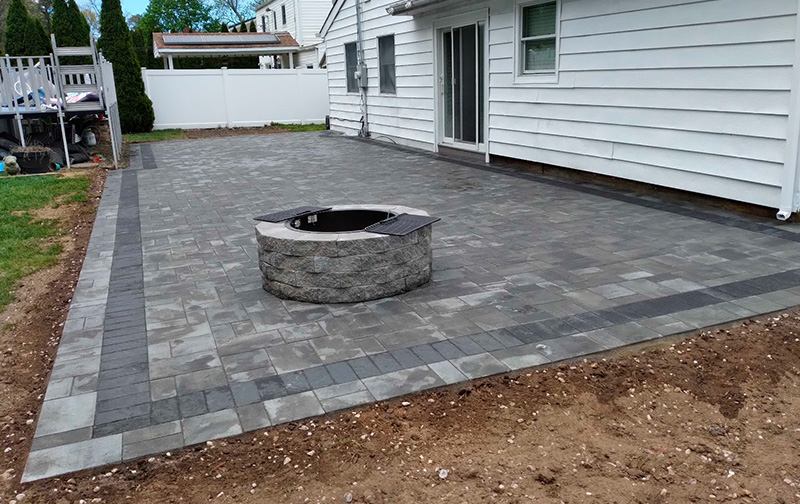 Examples of what similar projects could cost
Our Simple 5 Step process
Get our Free guide about Paver patios, learn all you need to know in order to have your patio build. You can save time by reading our guide. We compile all the best and most up to date information about patios, download our eBook now. Just complete some of your basic information and get your free copy:
Affordable Patio serves the following villages Suffolk County, NY:
What AP Customers Are Saying
I have used Affordable Patio three times now for three different projects and I have always been happy with their service. Dealing with James and Kristina in the office is a pleasure. The entire project is thoroughly planned out and executed appropriately. I highly recommend this company. Thanks again AP for all your help!!!
Elizabeth Donohue
2023-04-07
You guys killed it. Thanks for rocking out the back patio. We're super excited to make new memories. Thanks for the great work guys
We had a wonderful experience from start to finish. James, Kristina, and the entire crew were great to work with!! We will have them back for more projects for sure!!
Working with James Gio Kristina and evo plus his team was an awesome experience. As somone in the industry I was truly impressed and couldn't believe the standard held by precision. Would recommend 10/10!! Super knowledgeable and worth every penny! felt better than family!!
I just had my patio done and from start to finish everything went amazing. From the moment they came for an estimate, to the moment they finished, everything went smoothly. All the workers were professional and worked so fast. There were no hidden costs, no surprises. Kristina in the office keeps you informed step by step from the point they send the estimate, selecting the brick, start of the project and even throughout the project. She even sent photos of different color combinations as I was indecisive at first. Can't wait to enjoy my backyard with family and friends this summer. Will definitely be using them for future projects to come. Home projects can be stressful and feel like a chore between companies not showing up for estimates, hidden costs, poor workmanship, etc. That was not the case with James, Kristina and the rest of the crew. They made it feel like a breeze!
James Donnelly
2023-03-18
Affordable Patio is an amazing company! From the estimate, to the install and the clean up. We went online and more or less got a price on our own. We then scheduled an appointment with James, Kristina answered the phone and all of our questions, she's was polite, knowledgeable and courteous! James came to give us an estimate and was able to figure out a way for us to get a fire pit! We always dreamed of a fire pit! When the install was getting done, the crew was courteous and walked us threw every step and cleaned up like we never had any work done! 5 ⭐️ I love them and recommend them to everyone!
From the initial email that I sent for a quote, to the meeting with James, to the final finished project, I have nothing but excellent things to say about this company. It was an absolute pleasure working with Kristina throughout this whole process. She was very attentive and very quick with responses and questions that I had. Joe and his crew did beautiful work on my patio. I highly recommend this company to anyone looking for a backyard transformation.
Recently had a patio done 18x 35 in size . The crew that came was one of the best that I have seen . They all worked as a team . The lead guy joe was great , explained every detail that was going to happen . They worked together and completed the job in a day and a half . The bob cat did rip up some grass but they brought in top soil and leveled. the lawn to repair the damage . Clean up was just as good . The garbage was placed in bags , removed the dirt from the driveway . Filled the track marks with top soil . Did a great job and would use them again . The entire process was painless .
James and Kristina were very helpful and got the job done very quickly. My patio came out great! I would highly recommend them.
Barbara Schwartz
2023-03-06
James, Kristina and their work crew did an amazing job. They not only did our backyard they also did stone work on the front of our home and of course our front porch. The crew always cleaned up after their work day.. We couldn't be happier with how our home turned out!
Don't Know Where To Start?
Are you ready to enjoy your family's best Memories?
A Local Presence, A Strong Commitment.
Creating Holtsville's Perfect Patios: Patio Ideas in Holtsville.
Experience the art of outdoor living with Affordable Patio, your go-to paver patio contractor in Holtsville. Our expertise lies in designing and building custom patios that combine beauty and function. Whether you want or need a cozy spot for gatherings or a serene retreat, our team can bring your ideas to life. Choose from natural stone, pavers, or stamped concrete to create a patio that fits your home's style.
Elevate Your Outdoor Living with Holtsville's Premier Paver Patios.
Step into a world of possibilities for your backyard. Beyond patios, Affordable Patio offers a range of masonry solutions to redefine your outdoor space. Discover charming walkways through vibrant gardens, embrace the elegance of poolside patios, and awaken your inner culinary passion with outdoor kitchens. Let us create enduring retaining walls and captivating fire pits, destined to be the heart of your cherished memories.
Discover inspiring patio ideas, transforming your Holtsville property into an oasis of comfort and elegance. Experience Affordable Patio's commitment to excellence as we turn your outdoor dreams into reality.
Precision and Quality in Every Detail: Pool Patio Ideas.
Quality is our foundation. Our experienced craftsmen carefully create every element of your project, from concept to finishing touches. We source premium materials from trusted local suppliers, ensuring your investment stands the test of time and adds beauty to your surroundings.
Holtsville's Skilled Masonry Team: Creating Pool Patios with Excellence.
At Affordable Patio, we have a team of skilled masonry professionals at the core of our success. With years of experience, we can handle projects of all sizes and complexities. Our dedication and expertise are evident in the outdoor spaces we create that exceed your expectations. Explore inspiring pool patio ideas brought to life by our talented team.

Masonry Excellence within Reach in Holtsville.
We believe superior masonry should be accessible to everyone. Affordable Patio offers premium services at budget-friendly rates, ensuring you get quality without breaking the bank. Your dream outdoor haven is closer than you think, and we're here to make it a reality. Discover the possibilities of pool patios and more with Affordable Patio in Holtsville.
front yard ideas
front yard walkways ideas

front yard ideas
front yard walkways ideas

Frequently Asked Questions (FAQ)

Q: What services does Affordable Patio offer in Holtsville?
At Affordable Patio, we specialize in a wide range of masonry services in Holtsville. Our offerings include custom patio construction, walkway design, retaining wall installation, fire pit creation, and more. We tailor our services to meet your specific needs for outdoor living spaces.
Q: How does the patio construction process work?
Our patio construction process starts with an initial consultation to discuss your vision, budget, and requirements. Our skilled designers create a custom plan tailored to your preferences. Once the design is finalized, our experienced masons bring your patio to life with top-quality materials and craftsmanship.
Q: Can I see examples of your previous work in Holtsville?
Absolutely! We showcase successful projects in Holtsville, featuring before-and-after images and customer testimonials. This portfolio reflects the dedication and quality we bring to every project. Contact us, and we'll gladly share our portfolio with you.
Q: How long does a masonry project typically take to complete?
Project duration varies based on complexity and size. A simple patio construction might take a few days, while more extensive projects, like a custom fire pit or multiple structures, can take weeks. During our initial consultation, we'll provide a timeline for your specific project.
Q: Is Affordable Patio a licensed and insured masonry company?
Yes, we're a licensed and insured masonry company in Holtsville. Our experienced and certified professionals prioritize safety and quality in every aspect of our work. You can trust us to handle your project with care and attention to detail.
Contact AffordablePatio.com to begin your journey toward a stunning paver patio in Holtsville, NY. Let our team bring your vision to life!
front yard ideas
front yard walkways ideas

front yard ideas
front yard walkways ideas