Best Patio Installation Company in Farmingville
Patio Installers in Farmingville, pool patio, pool patio installer, Backyard pool patio installers, Pool installation, Installer Pool Patio. We have installed over 200 patios in the area!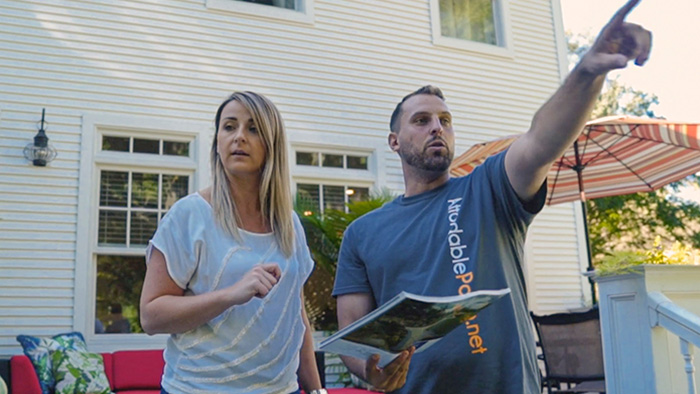 Welcome to AffordablePatio.com in Farmingville, NY!
As your local experts in paver patio installation and construction, we are thrilled to serve the vibrant community of Farmingville. With a strong commitment to this area, our team takes pride in creating outdoor spaces that seamlessly integrate with Farmingville's unique charm and provide you with a beautiful and functional extension of your home.
From the bustling local scene to the peaceful residential neighborhoods, Farmingville's diverse character is a constant inspiration for us. Our experienced team is passionate about crafting patios that not only enhance your outdoor living but also become an integral part of the Farmingville landscape. Whether you're looking for a serene retreat or a space to host gatherings, AffordablePatio.com is here to transform your vision into a reality that captures the heart of Farmingville.
Call Us or Build Price Online.
Select Front Yard, Backyard or Pool Patio
Here is a project that our team completed of Patio construction in Farmingville
Elevating Outdoors: From Inviting Patio to Poolside Oasis
In the town of Farmingville, NY, one of our customers home made a transformation in their outdoor spaces into a world of enchantment. Our skilled workers carefully designed a Patio that extends across 15,25 feet, adorned with the irresistible charm of pavers.

Their warm tones are beautifully complemented by a single border, creating a space that calls for relaxation and cherished gatherings with loved ones. But there's more in store – a breathtaking Pool Patio comes into view. From the inviting Patio to the captivating poolside haven, Affordable Patio is here to make Farmingville's outdoor dreams a captivating reality for everyone to enjoy.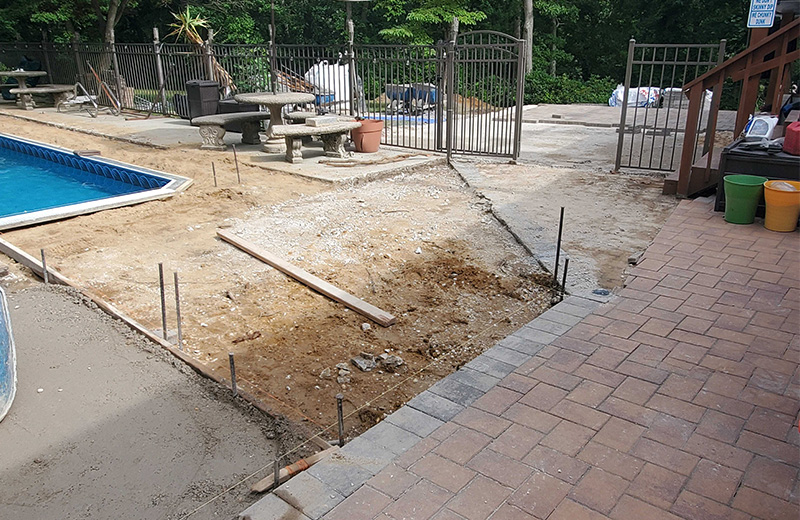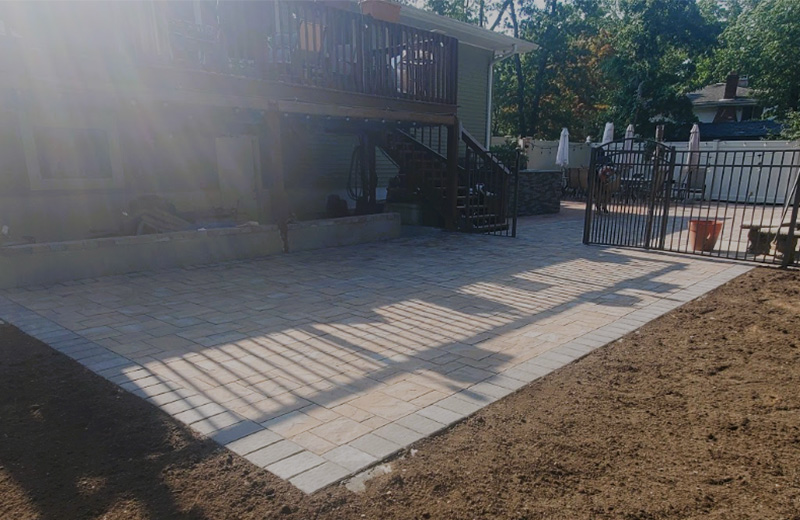 Discover Relaxation and Elegance: Patio Retreat
Beneath the surface of our patios lies a carefully engineered foundation that ensures both its longevity and stability. This welcoming haven showcases meticulous design and expert craftsmanship. Toffee Onyx Lite pavers lay the groundwork, their cozy shades embracing you warmly. With the 6×9 Onyx Natural single border provides a subtle touch of variety, framing the area with elegance. This is your ideal spot to relax, bond, and forge lasting moments. From relaxed evenings to lively get-togethers, the Patio retreat embodies the outdoor essence at its very best.
Poolside elegance: Dive into the Ledgestone Oasis
The Pool Patio opens up like a wide canvas, promising endless relaxation and good times. The Ledgestone Toffee Onyx Lite pavers set the stage, their texture and color giving the area depth and interest. A Mocha single border, decked with a mocha bullnose, adds a dash of elegance, framing the pool space with a touch of class. This is where every poolside memory is made, where sunny days invite you to kick back and enjoy the good life. The Pool Patio isn't just a spot outdoors; it's a symbol of style, a sign of Farmingville's passion for outdoor enjoyment.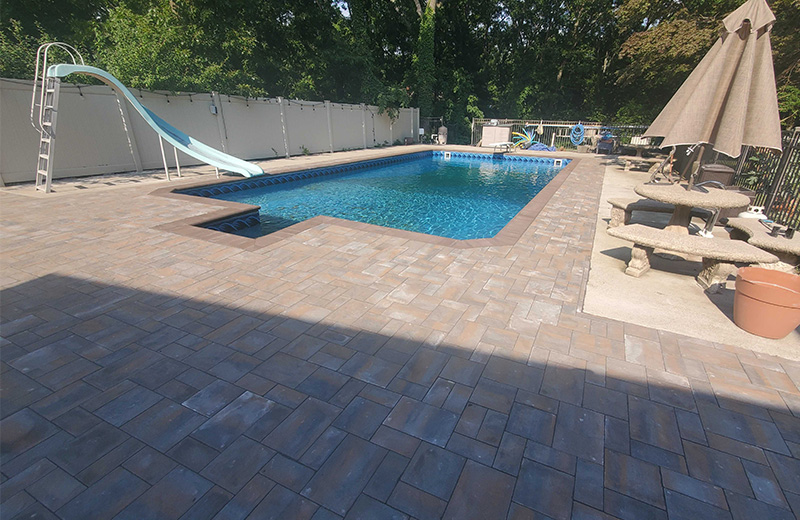 Examples of what similar projects could cost
Our Simple 5 Step process
Get our Free guide about Paver patios, learn all you need to know in order to have your patio build. You can save time by reading our guide. We compile all the best and most up to date information about patios, download our eBook now. Just complete some of your basic information and get your free copy:
Affordable Patio serves the following villages Suffolk County, NY:
What AP Customers Are Saying
I have used Affordable Patio three times now for three different projects and I have always been happy with their service. Dealing with James and Kristina in the office is a pleasure. The entire project is thoroughly planned out and executed appropriately. I highly recommend this company. Thanks again AP for all your help!!!
Elizabeth Donohue
2023-04-07
You guys killed it. Thanks for rocking out the back patio. We're super excited to make new memories. Thanks for the great work guys
We had a wonderful experience from start to finish. James, Kristina, and the entire crew were great to work with!! We will have them back for more projects for sure!!
Working with James Gio Kristina and evo plus his team was an awesome experience. As somone in the industry I was truly impressed and couldn't believe the standard held by precision. Would recommend 10/10!! Super knowledgeable and worth every penny! felt better than family!!
I just had my patio done and from start to finish everything went amazing. From the moment they came for an estimate, to the moment they finished, everything went smoothly. All the workers were professional and worked so fast. There were no hidden costs, no surprises. Kristina in the office keeps you informed step by step from the point they send the estimate, selecting the brick, start of the project and even throughout the project. She even sent photos of different color combinations as I was indecisive at first. Can't wait to enjoy my backyard with family and friends this summer. Will definitely be using them for future projects to come. Home projects can be stressful and feel like a chore between companies not showing up for estimates, hidden costs, poor workmanship, etc. That was not the case with James, Kristina and the rest of the crew. They made it feel like a breeze!
James Donnelly
2023-03-18
Affordable Patio is an amazing company! From the estimate, to the install and the clean up. We went online and more or less got a price on our own. We then scheduled an appointment with James, Kristina answered the phone and all of our questions, she's was polite, knowledgeable and courteous! James came to give us an estimate and was able to figure out a way for us to get a fire pit! We always dreamed of a fire pit! When the install was getting done, the crew was courteous and walked us threw every step and cleaned up like we never had any work done! 5 ⭐️ I love them and recommend them to everyone!
From the initial email that I sent for a quote, to the meeting with James, to the final finished project, I have nothing but excellent things to say about this company. It was an absolute pleasure working with Kristina throughout this whole process. She was very attentive and very quick with responses and questions that I had. Joe and his crew did beautiful work on my patio. I highly recommend this company to anyone looking for a backyard transformation.
Recently had a patio done 18x 35 in size . The crew that came was one of the best that I have seen . They all worked as a team . The lead guy joe was great , explained every detail that was going to happen . They worked together and completed the job in a day and a half . The bob cat did rip up some grass but they brought in top soil and leveled. the lawn to repair the damage . Clean up was just as good . The garbage was placed in bags , removed the dirt from the driveway . Filled the track marks with top soil . Did a great job and would use them again . The entire process was painless .
James and Kristina were very helpful and got the job done very quickly. My patio came out great! I would highly recommend them.
Barbara Schwartz
2023-03-06
James, Kristina and their work crew did an amazing job. They not only did our backyard they also did stone work on the front of our home and of course our front porch. The crew always cleaned up after their work day.. We couldn't be happier with how our home turned out!
Don't Know Where To Start?
Are you ready to enjoy your family's best Memories?
A Local Presence, A Strong Commitment.
Embark on a journey to create your dream Blue Point paver patio with AffordablePatio.com:
Personalized Consultation:
We start by scheduling a personalized consultation at your property. One of our knowledgeable team members will visit your home, discuss your ideas, and survey the area. We take measurements and provide you with our AP| Brochure and paver catalog.
Accurate Estimates:
We believe in transparency, so we provide detailed estimates within 24 hours after the consultation. Our estimates are tailored to your project's specific requirements, ensuring fair and accurate pricing.
Scheduling and Materials:
Once you give us the green light to proceed, we'll schedule the project and order the top-quality materials, including Cambridge Pavingstones® with ArmorTec®.
Setting Heights and Excavation:
We assess your property's grade and determine the appropriate height for your patio. Our skilled crew then excavates the area, removing soil or debris to create a clean slate for your project.
Installing Subbase and Sand:
Our team installs 4-6 inches of crushed concrete base, compacted with a gas-powered plate compactor. We then add a ¼-inch layer of fine mason sand for a level surface.
Paver Installation:
The actual paver installation begins, where we lay down the selected Cambridge Pavingstones® in the desired pattern, ensuring a smooth and visually appealing result.
Borders for Added Elegance: 
We offer various border options, including single, double, or matching borders, allowing you to add a touch of elegance and contrast to your patio.
Concrete Edge and Topsoil: 
To keep the pavers in place, we add a concrete edge around the patio's perimeter. The concrete is set slightly below the pavers and then covered with topsoil.
Polymeric Sand Application:
We fill the joints between the pavers with polymeric sand, which, when properly installed and watered, creates a solid bond, preventing weed growth and keeping the pavers secure.
Optional Paver Sealants:
While not required, we can apply paver sealants after a year to achieve that attractive wet look. This process allows the efflorescence to come out of the pavers before sealing.
Frequently Asked Questions (FAQs)
What makes Affordable Patio stand out from other contractors?
At Affordable Patio, we pride ourselves on our commitment to transparency, personalized service, and top-quality craftsmanship. Our goal is to educate you about the process, pricing, and materials to ensure you make informed decisions and have a stress-free experience.
What materials do you use for patio installation?
 We primarily use Cambridge Pavingstones® with ArmorTec® due to their durability, aesthetics, and wide variety of colors and styles. However, we also work with other high-quality materials to meet your preferences.
What warranty do you offer on your installations?
 We stand by the quality of our work, which is why all our patio installations include a 3-year warranty. Our contracts provide full details on the warranty coverage
How long does the installation process typically take?
 The timeline for each project varies based on its complexity and size. However, we strive to complete most projects within a 3-6 week time frame, starting from the date you give us the go-ahead.
Can you help me choose the right paver colors and designs?
Absolutely! Our team will guide you through the selection process, providing catalogs and samples to help you visualize different color combinations and patterns. Additionally, we recommend visiting Astro Masonry Supply to see the products in person.
We hope these frequently asked questions provide you with valuable information about our patio installation services in Hauppauge. Should you have any further inquiries or wish to schedule a consultation, please don't hesitate to contact us. We look forward to transforming your outdoor space into a stunning and inviting retreat!
Do I need to be present during the installation?
 While we encourage your presence during the initial consultation and final walkthrough, you don't need to be home throughout the installation. Our team is highly trained and efficient, and we will communicate with you regularly to provide updates.
What payment methods do you accept?
We accept various payment methods, including cash, card, check, PayPal, Venmo, and Zelle. Rest assured that we will provide receipts and keep detailed records of all transactions.
At Affordable Patio, we are passionate about creating exceptional paver patios that add beauty and value to your home. If you have any other questions or specific requirements, don't hesitate to reach out to us at 631-275-3142 or visit our website at affordablepatio.com.