Above Ground Pool With Pavers and Walls
---
Pavers around the pool, Pool pavers, . If you are looking to install a new above ground pool, or if you already have an existing one in your yard, you may wish to have pavers placed around it. Wrapping the pool walls in stone and pavers transforms your ordinary backyard pool into one that feels resort worthy. This design has become very popular over the years and our clients have always appreciated the value this new look adds to their outdoor space.
---
---
Install – Excavate – Coping for pool pavers
When installing the walls around the pool, we need to excavate down and install a concrete footing for the wall to sit on. We then measure and construct the wall to the height of the pool coping, which can be done in a few different ways depending on the type of pool. If your pool has an aluminum coping holding your liner, we would need to install the coping below that mark. We have provided pictures below to show you what that looks like. If your pool has steel walls and the liner sits in a track, we could then install coping on top of the pool, which enhances the overall look of the project. You can see the difference this makes in the pictures below. The last type of coping is dependent upon the supports that are holding up the pool. If these support beams are extending too far past the pool, we would have to install the wall stone at least a foot wider around the perimeter of the pool. This application requires double the amount of coping, on the pool and on the stone wall. You can see what this double coping looks like in the pictures below.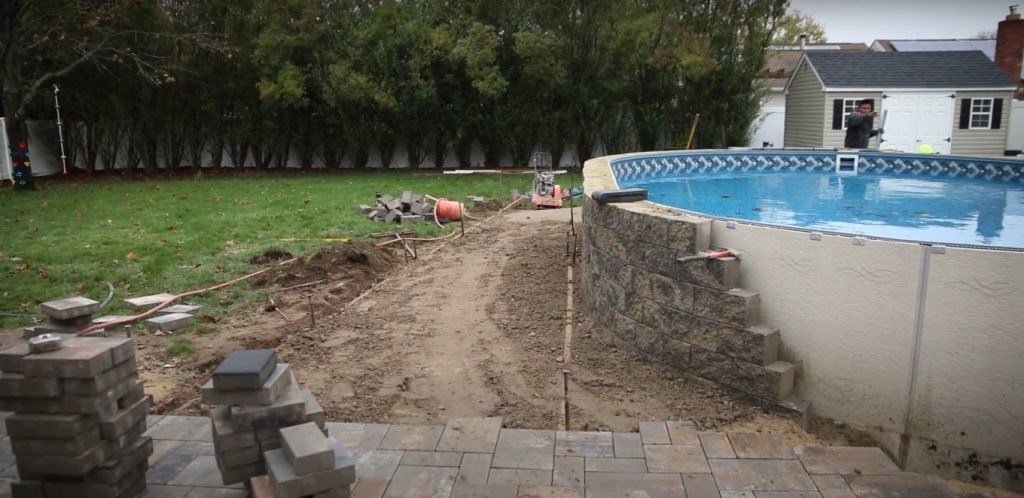 ---
Adding Steps to your Pool

Once the pool walls are wrapped in Cambridge wallstone, steps will need to be constructed in order to get into your pool. We typically recommend having more than one entry point into your pool with 3 foot landings. However, the number of steps you have around your pool are up to you, but keep in mind the available space needed to accommodate these steps. For instance, each step is a foot wide, so if you need four steps with a three foot landing, the steps will extend seven feet beyond the pool. No matter the number of steps, each will get matching coping and will tie seamlessly into the new stone pool walls. We love this type of design project because the steps really make your above ground pool look like a resort style pool.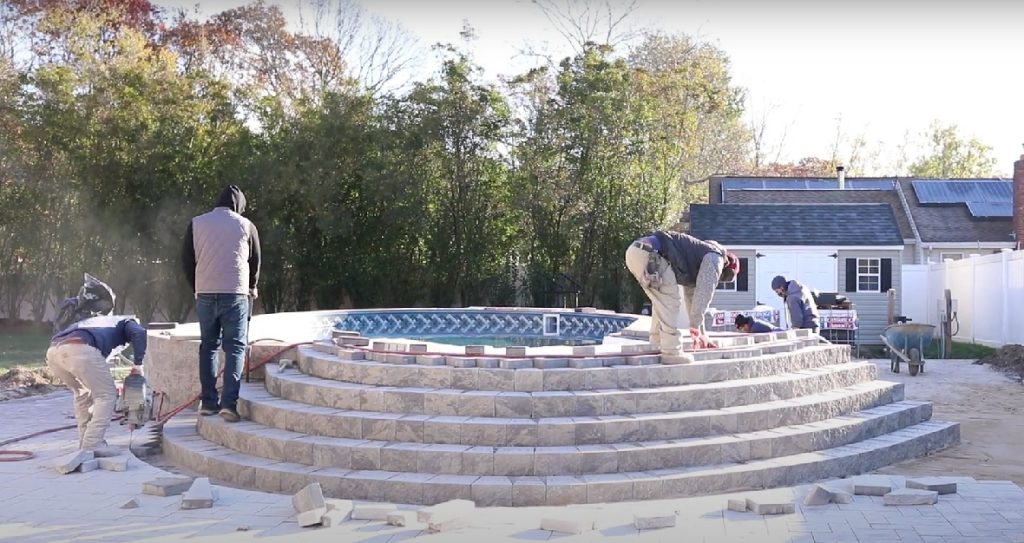 ---
Paver Patio Design
Once the pool walls have been installed, you will then begin designing your paver patio that will surround your pool. Something to keep in mind during the design process is mapping out where you may be entertaining and setting up patio furniture. Making sure that there is ample space when you enter and exit the pool from the steps is crucial. A great feature about pool walls is that depending on their height, you can use them as sitting walls for additional seating or even for a firepit area. When it comes to the patio design, your options are endless. You can customize everything to meet your budget and needs. Sometimes we have customers neglect to put pavers on the back side of the pool because they would rather use the pavers to add to the main patio area that they will be utilizing on a daily basis. To help inspire your future pool surround design, we have attached a couple of photos, so you can see what others have done to their outdoor entertainment spaces.
---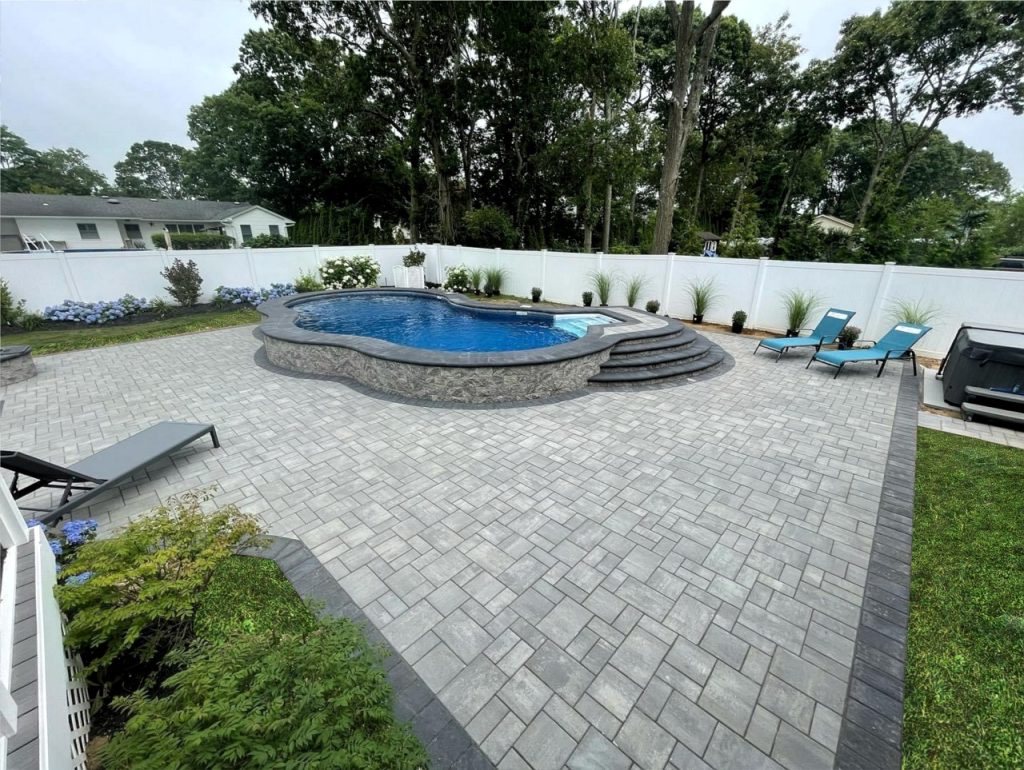 Thank you for taking the time to read about pavers and wallstones around your above ground pool. If you have any questions, please feel free to call or email us, we would be happy to help you with your next project. If you are looking to get an estimate, reach out to our team at affordablepatio.com and one of our highly qualified team members will be able to assist you with any questions you may have.